Are you looking for a creative way to update your home décor while also utilizing furniture you already have? Look no further! By upholstering your wood chairs, you can quickly and easily give them new life without breaking the bank or getting overwhelmed with complicated instructions.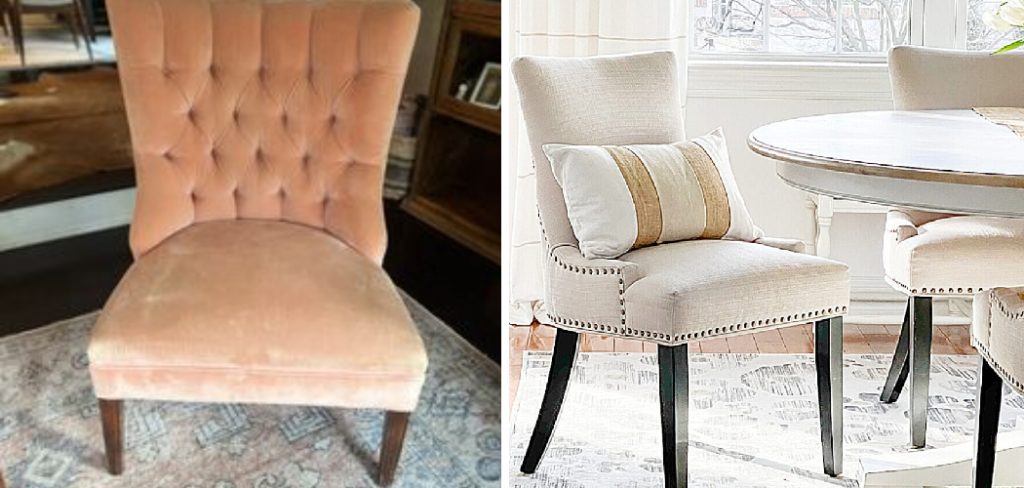 With this simple guide, we'll walk you through all of the steps necessary to turn old wooden chairs into stylish and comfortable upholstered seating pieces that will be sure to wow visitors!
Adding upholstery to a chair is one of the easiest ways to update the look of any room. Upholstering simple wooden chairs can be both an affordable and practical alternative to purchasing expensive furniture pieces. 
With this guide on how to turn wood chairs into upholstered chairs, you'll learn how easy it is turn wood chairs into stylishly upholstered accent furniture that everyone in your home will enjoy!
Why May You Want to Turn Wood Chairs Into Upholstered Chairs?
1. To Update the Look of Any Room
One of the main reasons why you may want to turn a wood chair into an upholstered one is so it looks more modern and stylish. Upholstery can bring any room in your home to life, adding texture, color, and depth – all of which you cannot get with just a wooden chair.
2. To Make Seating More Comfortable
Wooden chairs may not provide the support and comfort that an upholstered chair offers. Adding cushioning and fabric to a wooden chair will dramatically increase its comfort level without sacrificing its style or design.
3. To Extend the Life of Your Chair
Upholstering a wood chair can also help to extend its life, as it adds another layer of protection against wear and tear. This is especially important if your chair gets a lot of use, as the fabric will help keep it looking like new for much longer.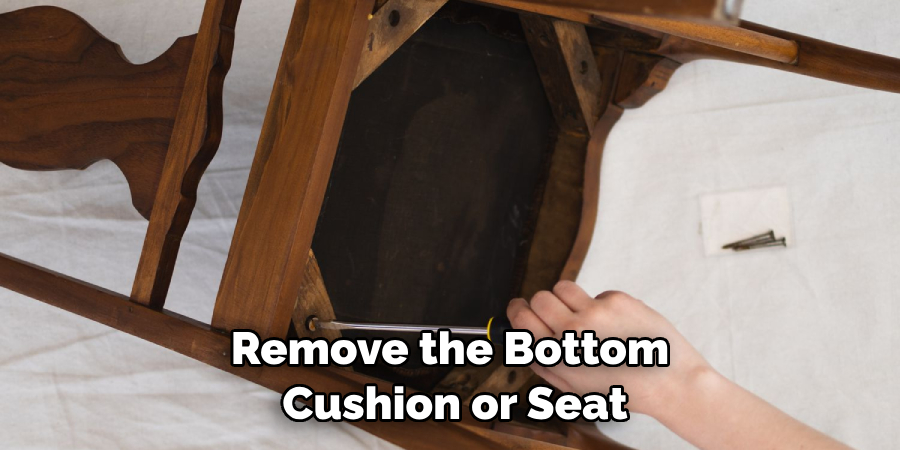 How to Turn Wood Chairs Into Upholstered Chairs in 6 Easy Steps
Step 1: Gather All The Tools
The very first step is to gather all the tools and materials you'll need for the project. This includes a hammer, screwdriver, staple gun with staples, upholstery fabric of your choice, scissors, foam padding (if needed), and any other supplies you may need.
Step 2: Prep The Chair
The next step is to prepare the chair for upholstering. First, remove the bottom cushion or seat and set it aside, then use a screwdriver to loosen any staples that might be holding down the fabric already on your chair. You may need a hammer to help you pry off pieces of wood or other materials that are attached to the chair.
Step 3: Measure The Chair
Once the old fabric is removed, measure the chair's seat. This will help you determine how much fabric and padding you need to purchase for the project.
Step 4: Cut The Fabric
Take your measurements from step 3 and cut the upholstery fabric accordingly. Make sure to add an extra inch of fabric on each side as this will give you some room for error when stapling the fabric onto the chair.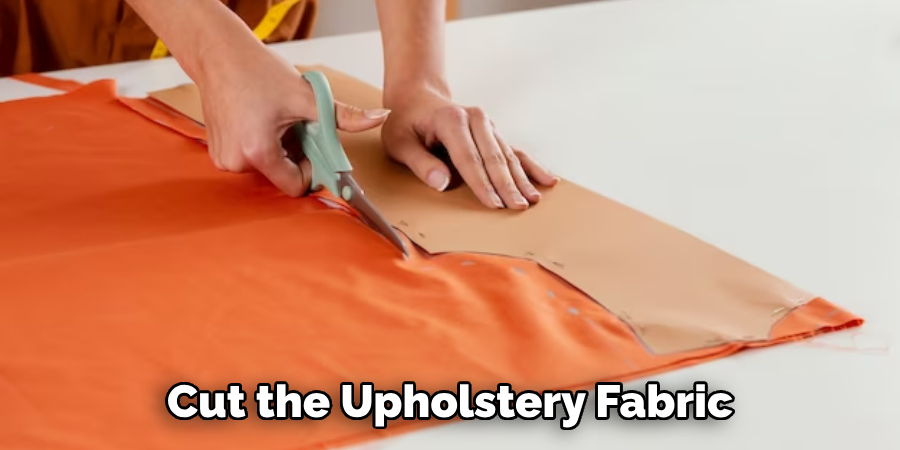 Step 5: Attach The Fabric
Once the fabric is cut, begin attaching it to the chair. Start at one corner and use a staple gun to secure the fabric in place. Make sure to pull the fabric tight as you go along so that there are no wrinkles or folds.
Step 6: Add Padding
If you would like, you can add some extra padding to make the chair more comfortable. You can use foam or pillow stuffing for this purpose. Once the padding is in place, staple it down and then reattach the bottom cushion or seat of your chair.
And that's it! Now you have a beautiful upholstered chair that you can be proud of. All it takes is a little bit of patience and some creativity—and you'll have your perfect chair in no time! Good luck!
Some Extra Tips to Turn Wood Chairs Into Upholstered Chairs
1. Choose Your Fabric Carefully
The fabric you choose is important, as it will determine the look and feel of your upholstered chair. Pick a fabric that suits both the style of your room and the design of your chair. Consider colors, textures, and patterns to find something that really works with the overall aesthetic.
2. Measure Your Chair for Accurate Sizing
Before you can cut and staple the fabric, you need to measure your chair. Be sure to measure the top, seat, back, arms, and sides of the chair for accurate sizing.
3. Cushioning is Key
When turning a wood chair into an upholstered one, it's important to find a cushion that can support both your body weight and the fabric you choose. Thick foam or batting are both good options for cushioning your chair.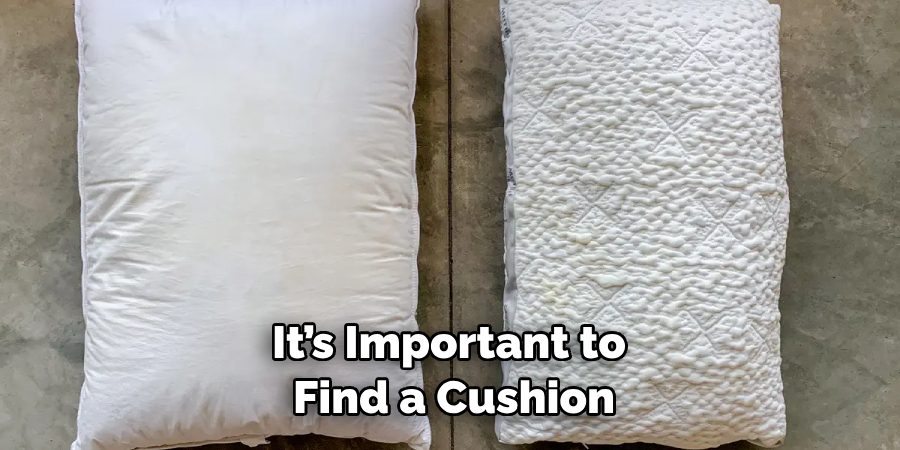 4. Securely Staple Your Fabric
To attach the fabric securely, use a staple gun to staple it to the frame of your chair or along its edges. Make sure that the staples are at least one inch apart in order to ensure they're secure.
5. Finish the Chair with a Trim
To add an extra touch of sophistication, consider adding trim or decorative buttons to your chair. This will help to give it a polished and professional look. Also, make sure to use fabric glue or hot glue for added security.
By following these tips, you'll be able to turn any wood chair into an upholstered one that looks elegant and stylish. With some time, patience, and the right materials, you can create a chair that will be the envy of everyone who visits your home.
Frequently Asked Questions
What Precautions Should Be Taken When Upholstering a Wood Chair?
When upholstering a wood chair, it is important to take into consideration the type of fabric you are using. Some fabrics may not adhere well to the wood and could cause damage if not handled properly.
Additionally, make sure the chairs are properly sanded and cleaned before applying any fabric or padding. It is also important to use a good quality spray adhesive and staples that are designed specifically for furniture. Finally, make sure you have the correct tools like foam cutters, staplers, and hammers for any necessary repairs.
What Types of Fabrics Can be Used?
Any type of fabric can be used when upholstering a wood chair. However, some fabrics are more durable than others and may require additional padding for increased comfort. For instance, cotton and synthetic fabrics are generally less durable but can be softened with batting or pillows for extra cushioning.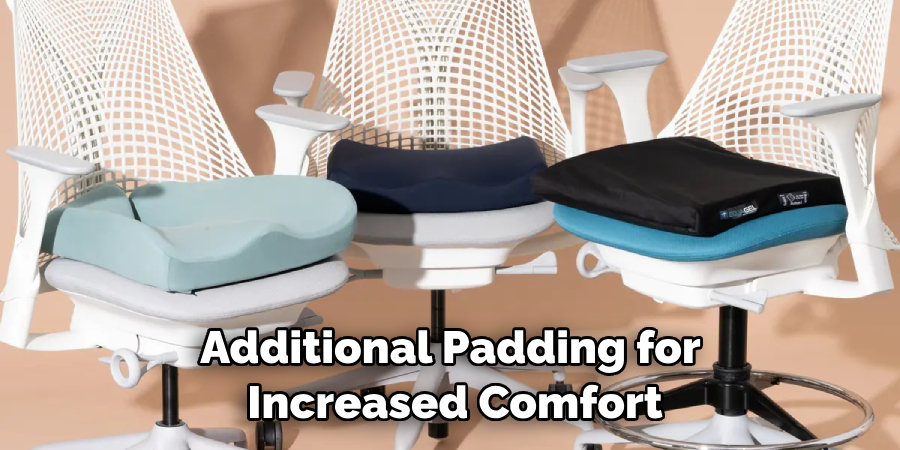 Leather and canvas are two of the most popular types of fabric used in upholstery projects as they provide a classic look while being relatively easy to work with. It is also important to consider the color and pattern of the fabric when making your selection.
What Steps Are Involved in Upholstering a Wood Chair?
Before you begin upholstering, it is important to properly clean and sand the surface of the wood chair. Additionally, measure the chair accurately so that you can purchase or create pieces of fabric that will fit correctly.
Once you have the material, cover the chair with batting and use a spray adhesive to keep it in place. Finally, wrap the fabric around the chair and secure it with staples or nails. When completed, you can add additional cushioning or pillows if desired.
Can I Upholster a Chair Myself?
Yes, it is possible to upholster a chair yourself. However, if you are unfamiliar with the process or lack the necessary tools and materials, it may be best to consult a professional for assistance. Additionally, make sure to read any instructions that come with your chosen fabric and padding before starting the project in order to ensure you get the best results.
Conclusion
Upholstered chairs are a great way to add character to any room, and can be easily customized to fit your individual style. Restoring or upholstering wood chairs can also prove to be an enjoyable experience, as it gives you the opportunity to put your personal stamp on something with history. Making over an old and worn-out chair into something more functional and attractive is rewarding.
As you can see, there are several ways you can turn wood chairs into upholstered ones. From recovering much of the material used in the original construction of the chair to creating a completely new look with reupholstering fabrics and padding, there is no limit to what you can do!
With these simple steps on how to turn wood chairs into upholstered chairs in mind, take your wood chairs from drab to fab and enjoy watching them transform before your eyes – there's no telling what kind of masterpiece you can come up with!