Do you want to give your home a makeover with new flooring and stair railings but aren't sure how to get the look just right? Don't worry – matching stairs railings with your new floors isn't as difficult as it may seem. In this blog post, we'll break down some of the key factors you need to consider in how to match stair railings with new flooring, then share styling tips on tying them together for an aesthetically pleasing result. Whether you have an eye for classic style or are looking for something more modern, our guide will ensure that your newly renovated staircase is one of the major highlights of your home.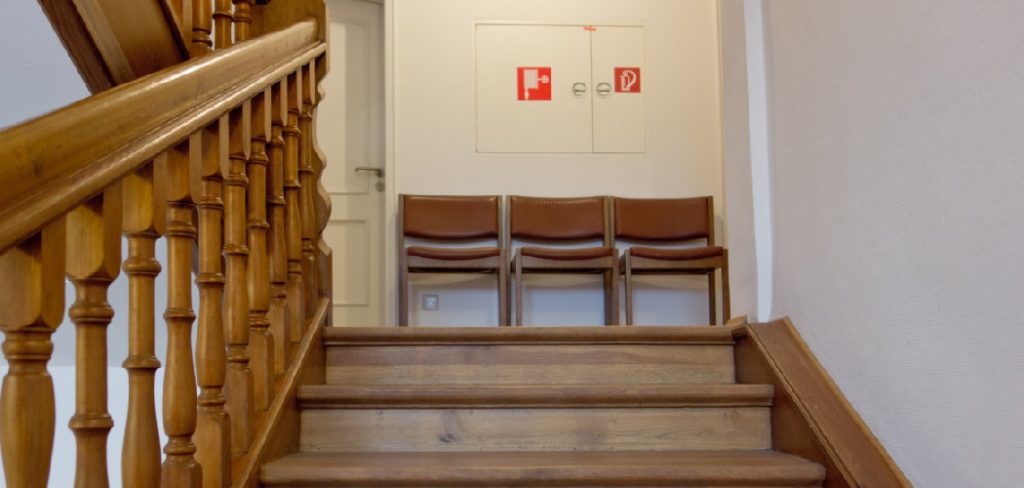 Should Your Stairs Match Your Floor?
When it comes to matching your stair railings with new flooring, the answer is both yes and no. On the one hand, having a unified look for your stairs and floor makes them flow together nicely and serves as a great backdrop for any décor. On the other hand, if you want to mix things up and make an interesting statement, then contrasting railings and flooring can provide a striking contrast that is sure to turn heads. Ultimately, the choice is up to you, but there are a few tips to keep in mind when deciding what's best for your space.
If you decide to match your stairs and floor, think about color and texture first. If you have light-colored hardwood flooring, for instance, you may want to opt for a light-toned railing. This will create a cohesive look throughout the space and doesn't require too much work. Alternatively, if you have dark floors, then it can be a great idea to choose railings that are darker or have an interesting pattern. The contrast between the two materials can create a beautiful balance.
On the other hand, if you want to make your stairs stand out and create an interesting contrast, then you may want to consider a different material for your railing. For example, if you have light-colored hardwood floors and want the stairs to stand out, then you could opt for metal railings in black or silver. This will create an eye-catching look that is sure to draw attention. You can also use different materials for your floors and railings, such as wood and metal, which can add a unique touch to the space.
10 Methods How to Match Stair Railings with New Flooring
1.  Consider the Overall Aesthetic
When choosing new flooring, it is important to consider the overall aesthetic of your home. What colors and styles are you drawn to? What would complement your existing furniture and décor? Once you have a good idea of the look you are going for, you can begin to narrow down your choices. If you are changing the flooring throughout your home, make sure to keep the colors and styles consistent.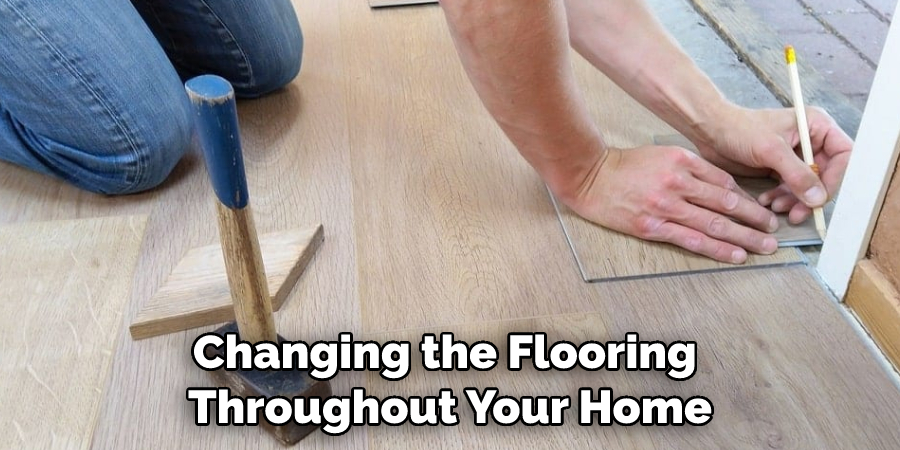 2.  Consider Your Lifestyle
Your lifestyle is another important factor to consider when choosing new flooring. If you have young children or pets, you will want to choose a durable option that can withstand spills and stains. If you have allergies, you may want to choose a hypoallergenic option. And if you live in a humid climate, you will want to choose the flooring that is resistant to mold and mildew.
If you are unsure of what type of flooring would best suit your lifestyle, you can consult with a professional flooring specialist. However, no matter what type of flooring you choose, you will want to make sure that the stair railings complement it.
3.  Consider Your Budget
Of course, your budget is also an important consideration when choosing new flooring. There are many different options available, from high-end options like hardwood and marble to more affordable options like laminate and vinyl. It is important to find an option that fits within your budget while still providing the look and feel that you want for your home.
Once you have narrowed down your options, you can start to look at matching stair railings. Depending on the flooring material you choose, there may be certain pre-made stair railings that will fit perfectly with your chosen flooring. Alternatively, you can customize the railing to match the flooring exactly.
4.  Compare Flooring Samples
Once you have narrowed down your choices, it is time to start comparing flooring samples. Order samples of your top choices and take them home to see how they look in your space. Pay attention to how the color looks in different lighting conditions and how the texture feels underfoot. This will help you make a more informed decision about which flooring is right for your home.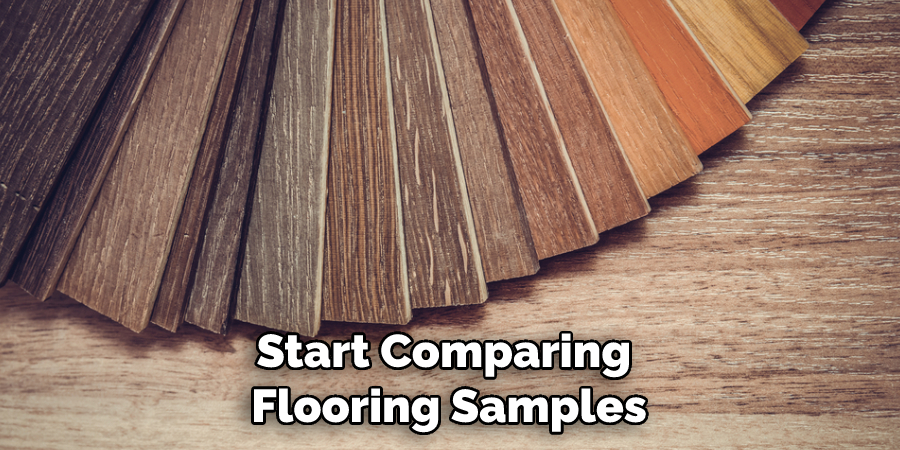 5.  Read Online Reviews
In addition to ordering samples, be sure to read online reviews of the different flooring options before making your final decision. See what other homeowners have to say about their experience with the product. This can be a helpful way to learn about any potential problems with the flooring before making your purchase.
6.  Ask for Recommendations
If you know someone who has recently installed new flooring in their home, be sure to ask for recommendations. They may have some great insights that you didn't consider and can point you in the right direction. If you don't know anyone who has recently installed new flooring, you can always ask your local flooring professionals for their recommendations.
They know the best materials and styles that will work well with your new flooring. You can also research online for ideas to get a better idea of what type of stair railings will work best with your new flooring. With a little bit of research, you can find the perfect match for your new flooring and stair railings.
7.  Hire a Professional Installer
Once you have chosen your new flooring, it is important to hire a professional installer who can properly install it in your home. This will ensure that it looks its best and lasts for many years to come. A professional installer will also be able to match your stair railings with the new flooring so that it looks seamless and attractive. Be sure to look for a qualified installer who has experience with stair railings so that you can be sure the job is done right.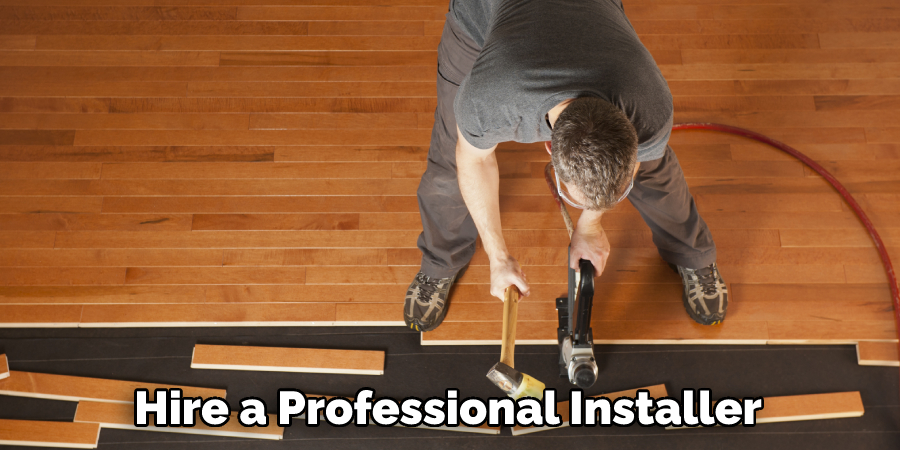 8.  Match Your Stair Railings
When it comes to matching stair railings, you have a few options. If your flooring and railing are the same material, then the two should match automatically. However, if you choose different materials for the two elements, there are some ways to make sure that they complement each other. You can pick out colors or finishes that will tie them together while still allowing them to stand apart.
For example, if you have light-colored hardwood floors and black metal railings, you could use black accents or fixtures throughout your home to bring everything together.
9. Get Creative with Color & Style
If you want to incorporate more of a modern look into your home, don't be afraid to get creative with your stair railings. Consider mixing and matching different colors or styles for a unique look. You could also add decorative elements such as patterned wallpapers, murals, or art pieces that tie into the color of your flooring and railing. This will give your staircase a unique look, no matter the type of flooring you choose. Be sure to keep safety in mind when selecting an artistic railing, making sure the materials are certified for use.
10. Enjoy Your New Flooring!
After all of the work involved in choosing and installing new flooring, it is finally time to sit back and enjoy it! Your new floors should provide years of beauty and enjoyment in your home. With the right stair railing, your stairs will look and feel as if they're part of a custom-designed space. Take pride in knowing that you have matched your stair railings with new flooring in a way that is both attractive and functional. Your home can now be the envy of all!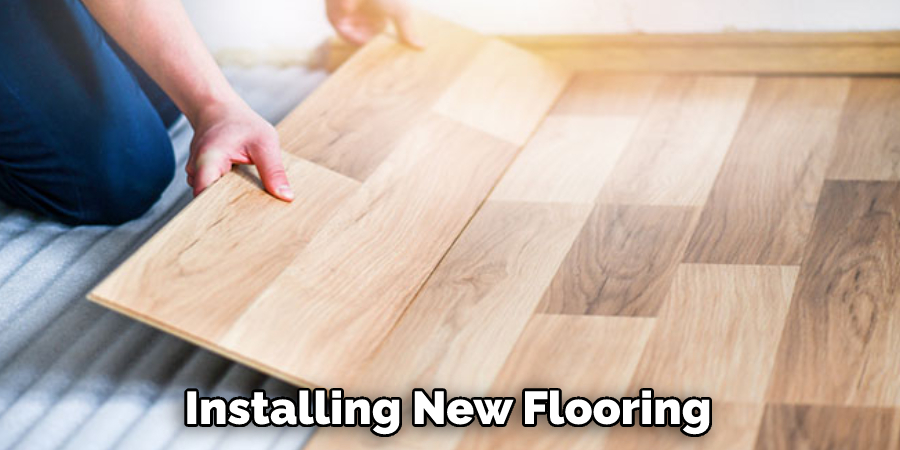 No matter what you choose, it is important to take the time to find the perfect combination of flooring and stair railings that will make your home look beautiful and complete! With thoughtful planning and careful consideration, you can create an unforgettable aesthetic in your home.
Conclusion
Trust your creative instincts when matching stair railings with new flooring. If you love the way it looks, chances are others will too. And don't be afraid to think outside the box – sometimes contrasting colors can create a beautiful and unique look that really makes your home stand out from the rest. Now that you know more about how to match stair railings with new flooring, the choice is up to you. Consider all of your options and make a decision that you will be happy with for years to come. If you need any help during the installation process, please do not hesitate to reach out to us. We would be more than happy to assist you in creating the perfect look for your home.
You Can Check It Out to Stop Wooden Slats Falling Out