Have you ever looked at your backyard and noticed an unsightly fence spoiling the view? Or maybe you have a perfectly presented outdoor living space, but it's being ruined by a naked view of the neighbor's backyard. Not to worry!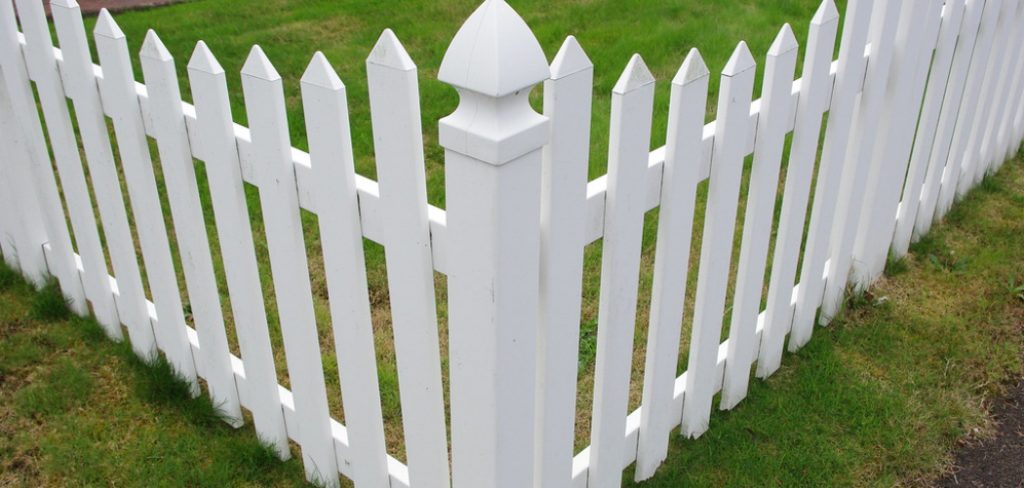 Here is some great advice on how to hide unsightly fence with some creative landscaping techniques. With just a few simple additions, we can guide you through transforming an eyesore into an aesthetically pleasing addition to your landscape design. Read on for helpful tips that will make this task easier than ever before!
What Can I Put on My Fence to Make It Look Nice?
There are many ways that you can make an unsightly fence look nicer. Depending on the type of fence, there are several options for decoration and concealment that can enhance its appearance.
One option is to plant trees or shrubs around the perimeter of your fence. This will draw eyes away from the actual structure and create a more naturalized look. Additionally, if you have a chain link fence, consider installing a slatted panel to cover the middle section and create an enclosure effect.
You can also utilize planters to brighten up your fence and add color. Hanging flower boxes or window boxes along the sides will bring in lots of lively colors and can even enhance your outdoor living space. Additionally, painting or staining the fence with a modern color that coordinates with your home is also an option if it's made of wood.
For added privacy and to completely conceal the fence, you could also install lattice panels around the perimeter. This will not only add texture and depth to the fence but also give it a sense of privacy. You can even use this setup as an opportunity to plant climbing vines and have them grow up the lattice for additional coverage.
10 Methods How to Hide Unsightly Fence
1. Use Climbing Plants
One way to hide an unsightly fence is to use climbing plants. Climbing plants can quickly cover a fence and provide it with a natural, green look. Some popular climbing plants include ivy, clematis, and jasmine.
All of these plants can be trained and encouraged to grow along the fence, providing a natural privacy barrier. Be sure to choose climbing plants that are suited to your local climate as some can be quite delicate. However, there are many varieties available that will thrive in most climates.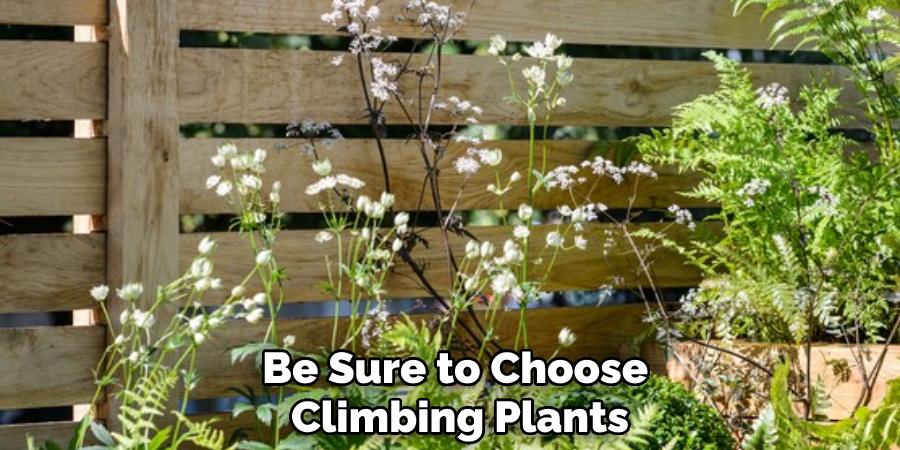 2. Hang Baskets
Another way to hide an unsightly fence is to hang baskets filled with plants from the fence. This will add color and life to the fence while also hiding it from view. Hanging baskets can be made from different materials, including wood, metal, plastic, and ceramic. Make sure to choose a material that is strong enough to hold the weight of the basket, plants, and soil.
Hang the baskets at different heights along the fence to create an artistic effect. Be sure to water the plants regularly so that they stay healthy and look their best. Hanging baskets will not only hide an unsightly fence, but they will also add beauty and life to your outdoor space.
3. Paint the Fence
If you want to completely transform the look of your fence, you can paint it. You can either paint the entire fence one solid color or get creative and paint it in a pattern or design. Either way, painting your fence is a great way to hide it from view. Make sure that you use quality outdoor paint and primer to get the best results.
If your fence is made from metal, you'll also want to use specially formulated paint for rust prevention. Whatever paint you choose, make sure that you take the time to properly prepare your fence and apply the paint with even strokes.
4. Add a Trellis
A trellis is an open framework that can be used to support climbing plants. Adding a trellis to your fence will not only help to hide it but will also add an element of interest and beauty. It can be used to cover the whole fence or just a section of it, depending on your needs. To ensure that your trellis is strong and secure, use pressure-treated lumber.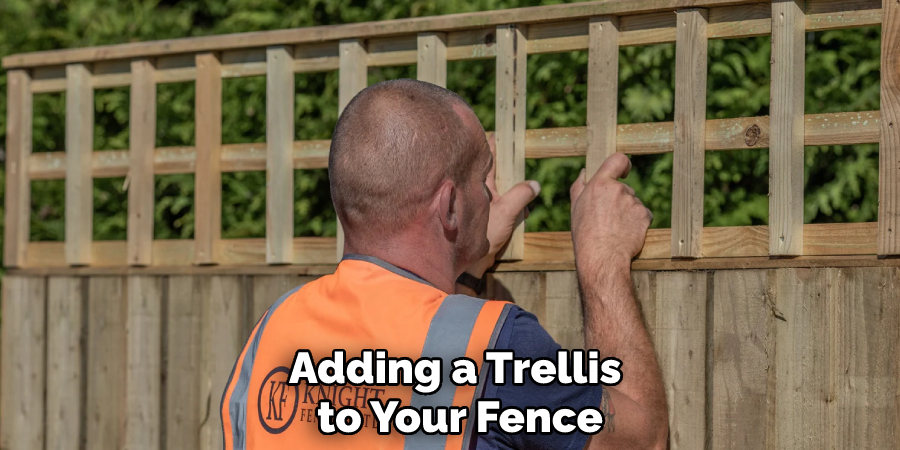 Once the trellis is up, choose some climbing plants to cover it with and watch your dull fence transform into a vibrant garden feature. It's also easy to change up the look of your trellis by replacing the plants from time to time.
5. Plant Bushes
Planting bushes in front of your fence is another great way to hide it from view. Bushes can provide privacy while also adding color and interest to your yard or garden. You can choose from a variety of bushes that are suited to your climate and soil conditions. Some popular choices include boxwood, forsythia, rhododendron, and holly.
Make sure to place the bushes far enough from your fence so that they won't eventually block it. Additionally, be mindful of the size of the shrub when it reaches full maturity – you don't want it to overtake your fence or the other landscaping in your yard. Finally, be sure to give your bushes plenty of water and fertilizer so they can thrive.
6. Install a Slat Fence
If you're looking for a more permanent solution, you could install a slat fence. Slat fences are made up of horizontal boards that are spaced apart, which allows them to be easily hidden by plants or other objects.
These fences are also easy to maintain and will last for many years with minimal upkeep. Slat fences can be made from a variety of materials, such as wood, vinyl, metal, or composite. They're available in a range of sizes, so you can find one to fit your needs. Since the boards are spaced apart, you can also easily add decorations or artwork to your fence.
This will make it look even more appealing and help hide your fence from view. Installing a slat fence may require some expertise and tools, so it's best to consult a professional if you're unsure of how to do it.
7. Build a Living Wall
A living wall is basically a vertical garden that is attached to a wall or fence. Living walls are beautiful and can help to completely transform the look of your outdoor space. Plus, they're great for hiding unsightly fences! You can plant a variety of plants to create a living wall that is lush and vibrant.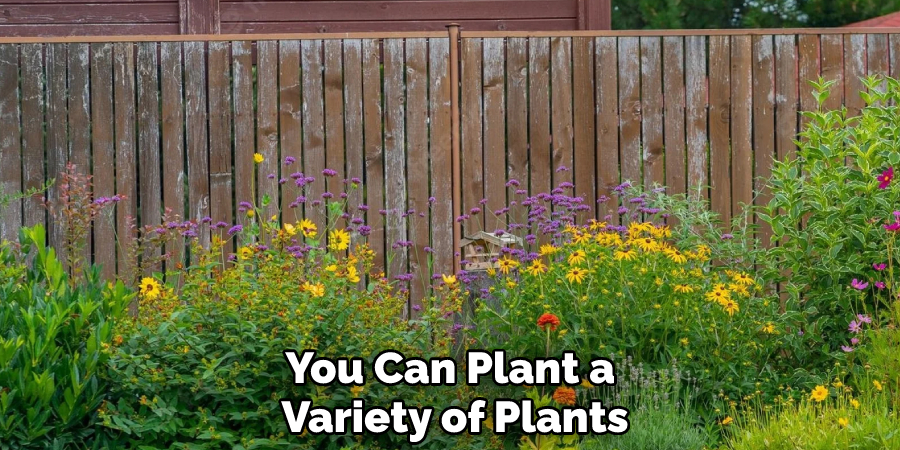 Choose plants with different colors, textures, and heights so your living wall will be an eye-catching addition to your yard. Be sure to use a soil mix that drains well and water regularly to keep your plants healthy. With a little bit of TLC, your living wall will look beautiful for years to come.
8. Hang Curtains
Hanging curtains from your fence is another easy way to hide it from view. Curtains can provide privacy while also adding color and interest to your yard or garden. Simply choose curtains that are made from weather-resistant fabric so that they can withstand the elements. Attach them to the fence with hooks, and you're done!
With the addition of curtains, your unsightly fence will blend into the background. Make sure to secure the curtains tightly so that strong winds won't blow them away. You may also want to consider hanging a few potted plants from the hooks to add some greenery and life.
9. Use Lattice Panels
Lattice panels are made up of crisscrossed strips of wood that create a diamond-shaped opening between them. Lattice panels can be used for various purposes, including hiding unsightly fences.
Using lattice panels can be an inexpensive way to disguise an unattractive fence but still provide the needed privacy and security. Lattice panels allow air and some light to pass through while still providing coverage. When using lattice panels, make sure to follow the manufacturer's instructions for installation.
10. Install Landscape Lighting
Landscape lighting can be a great way to draw the eye away from an unsightly fence. By adding landscape lighting around your fence, you'll not only create a more interesting outdoor living space but also help to hide the fence from view at night.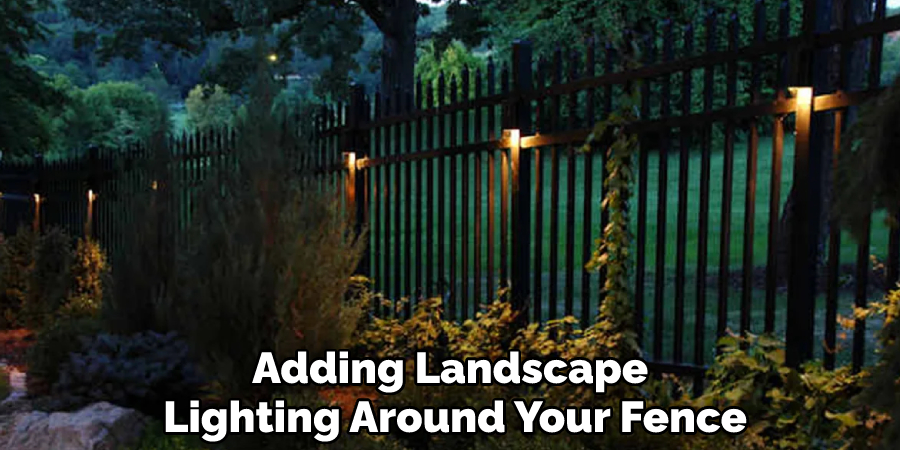 For example, you could install lights along the base of the fence or position them to light up trees and foliage near the fence. By highlighting these features, you can make the fence seem less prominent.
Conclusion
In conclusion, learning how to hide unsightly fence is essential for improving the aesthetic of your outdoor space. A fence can be hidden using a variety of materials and techniques, including privacy screens, tall plants, trellis structures, wooden latticework, climbing vines, and artificial hedges. Each of these options brings a unique and distinct element to your landscaping while enhancing the beauty of your backyard.
Whether you want to create a sophisticated look or just add some pizzazz to your deck railing – experimenting with various hiding methods will help you find the perfect solution for obscuring an unattractive fence. So take action today and start sprucing up your outdoor area by experimenting to discover how to hide those unsightly fences!