Are you looking to create a deck space that seamlessly transitions from your outdoor patio to a set of stairs leading down the yard? Are you interested in learning how to install composite deck stair systems? If so, then this blog post on how to finish composite deck stairs is for you! Here we will take an in-depth look at everything involved in finishing composite deck stairs.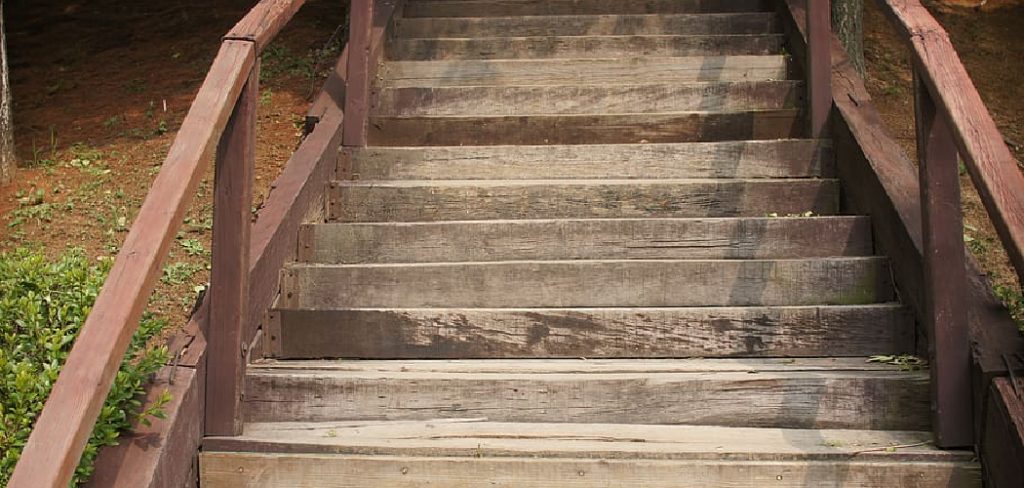 From selecting the right materials and creating accurate measurements to nailing down boards into place – we'll cover all of the essential steps needed for completing your beautiful outdoor staircase. So if you're ready, let's go ahead and get started building on your dream project!
What is Composite Deck Stair?
Composite deck stairs are a type of material that is made up of wood fibers and recycled plastic. This type of material is known to be strong, durable and resistant to the elements – making it an ideal choice for outdoor staircases. Additionally, composite decking materials come in many attractive colors and styles which makes them perfect for a wide range of designs.
Tools & Materials Needed
Before you get started building your composite deck stairs, there are some tools and materials you'll need including:
Deck Boards
Select boards that match the color and style of your composite deck. To ensure a strong, long-lasting staircase, it's important to use boards that have been treated for outdoor use.
Fasteners 
You'll need fasteners (e.g., nails, screws) that are designed for outdoor use and can securely attach the boards together with a minimum of 25 mm between each board.
Measuring Tape & Level
Accurate measurements are essential when constructing any type of decking space, so make sure you have a measuring tape and level handy.
12 Step-by-step Instructions on How to Finish Composite Deck Stairs
Step 1: Select the Right Materials for Your Project. 
The type of material you use will determine the longevity and durability of your stairs. Composite decking is a popular choice for many homeowners due to its low-maintenance, long-lasting properties.
However, there are other materials that you may want to consider such as natural wood, PVC or aluminum. If you're unsure of what type of material to use, consult with a professional or research the different options available. But, whatever you decide, make sure the material is strong, durable and designed for outdoor use.
Step 2: Measure Out the Length and Width of Your Staircase
Before you start constructing your stairs, it is important to accurately measure the length and width of your staircase. This will help you determine how much material you will need for the project as well as plan out a more precise design for your stairs.
It is also important to consider any existing structures, such as railings, that you might need to work around. This will help you to come up with a unique design that fits your vision and space.
Step 3: Install the Stringers (the Structure that Supports the Steps)
Installing stringers is an essential step in building composite deck stairs. These provide stability and act as a foundation for your steps. When installing stringers, make sure that you level them correctly and use the correct hardware to keep them in place.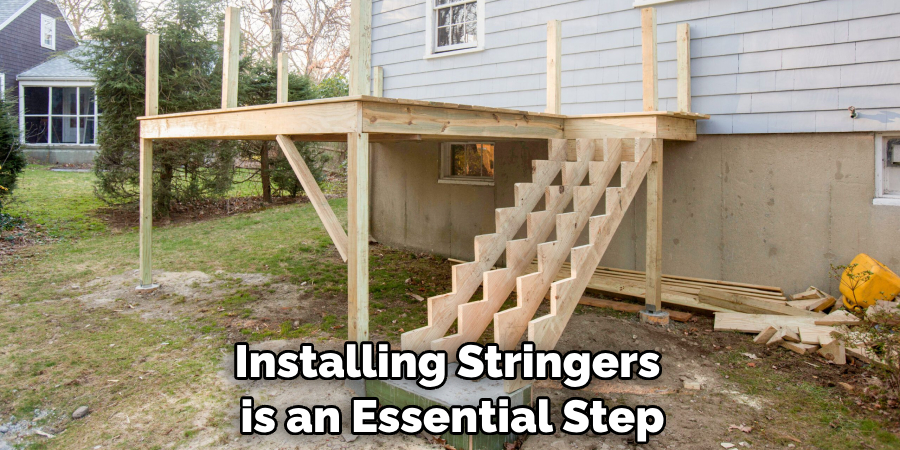 If you are unsure of how to do this, it is best to consult with a professional who can provide guidance and advice. it also important to note that the number of stringers you use will depend on the size and shape of your stairs.
Step 4: Cut the Treads (the Actual Steps)
Once the stringers are in place, it is time to cut your treads or steps for your staircase. This can be done by either using a circular saw or pre-made composite stair risers. Make sure that your measurements are precise and double check them before cutting!
Although this may take some time, it's important to get the measurements right if you want a professional-looking finish. But don't stress if you make a mistake – there is always the option to start over and try again.
Step 5: Place Your Composite Decking Boards in Place
When placing boards into place, start from the bottom of the stairs and work up toward the top. Attach each board with deck screws and drill pilot holes beforehand to avoid splitting. Be sure to double check that your boards are level and secure. It is also important to note that a minimum of 25mm should be left between each board.
Step 6: Add Composite Skirting
Composite skirting is a great way to give your stairs a polished, finished look. You can find composite skirting in various colors and designs to match the existing design of your staircase. Place the skirting around the edges where needed and attach it with deck screws.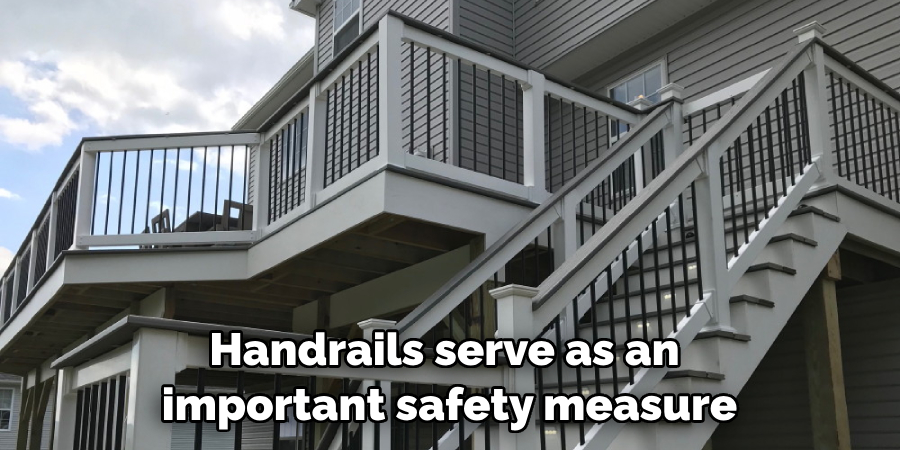 But be sure to measure and cut carefully, so that the skirting fits snugly and looks professional. This will also help ensure that the skirting stays in place and does not move or shift.
Step 7: Install Handrails
Handrails serve as an important safety measure for stairs, so make sure to install them properly! Attach handrails on both sides of the stairway at an appropriate height (typically between 36-42 inches). When installing handrails, be sure to use lag bolts or another type of strong fastener to keep them secure.
Step 8: Add Finishing Touches
Add any additional finishing touches such as lighting, post caps or decorative accents to make your stairs more attractive and customizable. Be sure to take into account the overall design of the space before adding any decorative elements. It is best to keep the design cohesive and make sure everything works together.
Step 9: Clean Up Your Work Area
Once you have finished constructing your composite deck stairs, it is time to clean up the work area. Remove any tools that were used in the process and dispose of any debris properly. You want to make sure that all surfaces are free from dirt in order to prevent slips or falls. But don't forget to sweep away any sawdust or material particles that may remain!
Step 10: Seal and Stain Your Composite Deck Stairs
Sealing and staining your composite deck stairs is an important step for protecting them from the elements. This will also give your stair system a beautiful, polished finish. Always follow the instructions of your sealant or stain carefully and make sure to apply it evenly. This will help ensure that your stairs are properly protected and will last for years to come.
Step 11: Enjoy the Results
Once you have completed these steps, it is time to enjoy the results of your hard work! Sit back and admire your beautifully finished set of composite deck stairs- they are sure to bring years of enjoyment to you and your family. If you ever have any questions or need help, make sure to consult a professional or read up on composite decking resources and tutorials.
Step 12: Maintenance Tips
Finally, make sure that you maintain your composite deck staircase by regularly cleaning it with soap and water or pressure washing. You may also want to seal or stain your stairs every few years in order to keep them looking good as new! Following these simple tips will help ensure that your composite deck stairs look great for many years to come.
We hope this blog post was helpful in providing you with the steps on how to finish composite deck stairs! With just a few simple steps, you'll have a beautiful outdoor space that is sure to impress. Happy building!
Do You Need to Hire a Professional?
If you are unsure about the process or feel overwhelmed with the task ahead, it may be best to consider hiring a professional contractor. A skilled contractor will be able to ensure that your stairs are built correctly and safely, while also providing helpful advice when needed.  Good luck with your project- we hope it turns out great!
Frequently Asked Questions
Q: What Materials Do I Need for My Composite Deck Stairs?
A: You'll need composite deck boards, fasteners, a measuring tape, level, stringers, treads (steps), skirting, handrails and finishing touches.
Q: How Do I Make Sure My Staircase is Level?
A: Before placing any boards in place for your staircase, use a measuring tape and level to make sure that the area is flat and even. This will help ensure that your stairs are stable and secure.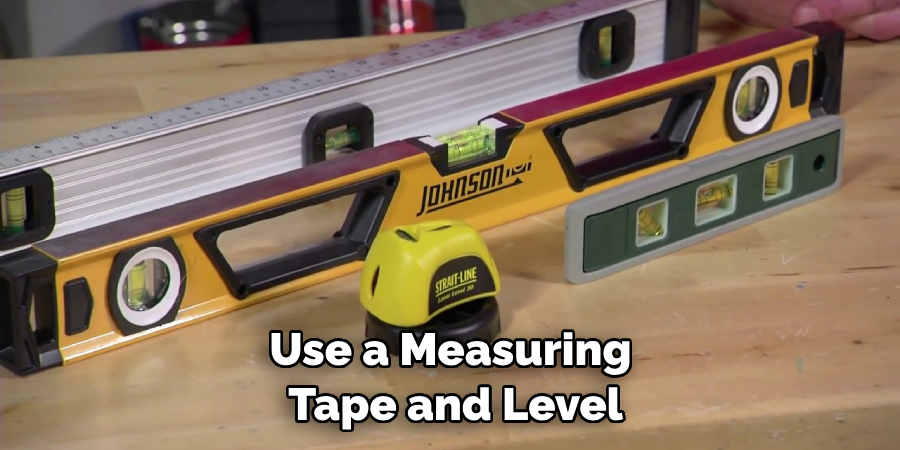 Q: How Often Should I Clean My Composite Deck Stairs?
A: It's important to clean your composite deck stairs regularly with soap and water or pressure washing in order to remove dirt and debris. You may also want to consider sealing or staining your stairs every few years in order to keep them looking great over time.
This blog post provided you with the steps on how to finish composite deck stairs and answer some of the most commonly asked questions along the way. We hope that this article was helpful in aiding your project! Good luck with your staircase- we're sure it will turn out great.
Conclusion
Completing a composite deck staircase is an intricate and satisfying project. Even if you don't have the most experience, using the correct materials, having the right tools, and following standard safety precautions should help make this a seamless endeavor. The end result may become one of your proudest accomplishments yet!
To finish off, be sure to take some time to appreciate your hard work and enjoy your improved outdoor space with family and friends. With just a few extra steps on how to finish composite deck stairs in comparison to traditional wooden stairs, you can have lovely composite deck stairs fitted into your home that will provide lasting performance for years to come.