It's that time of year again when the Christmas decorations start appearing in stores and online. If you're looking for a unique way to decorate your home this year, why not try using an old wooden sled? You can paint it any color you like or add some festive stickers.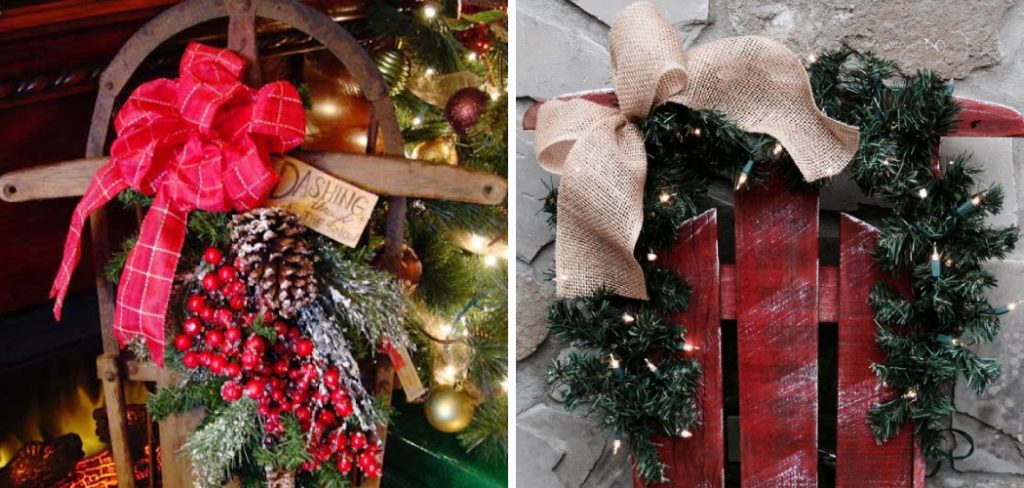 Few things depict Christmas quite like a beautifully decorated wooden sled. If you have an old sled lying around, don't let it collect dust this holiday season! Here are some easy ways to dress up your sled for the holidays.  In this article, we'll show you how to decorate an old wooden sled for Christmas quickly and easily.
What Do You Put on the Bottom of Sleds?
You can put almost anything on the bottom of a sled – from festive fabric to newspaper. This layer of material will provide some cushioning and protection for whatever you decide to place on top of it (like Christmas trees, presents, or other decorations).
If you plan on using your sled outdoors, consider finding a waterproof material that won't be affected by rain or snow. Felt is an excellent choice for this purpose because it is strong and durable yet still lightweight enough to carry around easily. Alternatively, you can use an old blanket or piece of quilt fabric if these options aren't available.
10 Methods How to Decorate an Old Wooden Sled for Christmas
1. Paint the Sled
One of the easiest ways to decorate an old wooden sled is to simply paint it. You can either paint the entire sled one color, or you can get creative and paint it in a festive pattern or design. If you want to add some extra Christmas cheer, you can even add some glitter to the paint. If you don't want to paint the entire sled, you can also just paint the edges and leave the center natural. Though either way, a painted sled is sure to look festive and fun.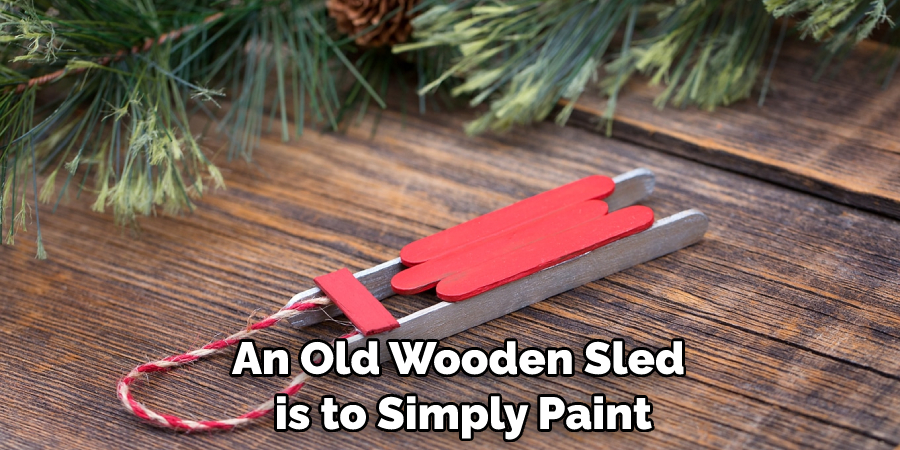 2. Add Some Fabric
Another way to decorate an old wooden sled is to add some fabric. You can either wrap the fabric around the sled or you can use it to create a festive banner or flag. If you're feeling really creative, you could even use the fabric to create a quilt-like design on the sled. While using fabric to decorate an old wooden sled may take some time and effort, the results will surely be worth it.
3. Use Ribbons and Bows
Ribbons and bows are always a festive way to decorate anything, and an old wooden sled is no exception. You can use ribbons to create a banner or flag, or you can simply tie them around the sled for a decorative touch.
Bows can also be used in a similar way, or they can be added as accents on top of the ribbons. While this method won't take long, it will add a lot of cheer and color to the sled. Make sure to choose festive colors and patterns to truly get into the Christmas spirit.
4. Add Some Greenery
Adding some greenery is a great way to give your sled a festive touch. You can use evergreen branches, holly, ivy, or any other type of greenery that you like. You can either tuck the greenery into the sled itself, or you can use it to create a wreath or garland that goes around the outside of the sled. If you're feeling particularly creative, you can even use the greenery to make a festive design or pattern on the sled.
5. Use Lights
Lights are always a popular choice when it comes to Christmas decorations, and they're perfect for dressing up an old wooden sled. You can wrap them around the sled, tuck them into the greenery, or simply drape them over the top of the sled for a sparkling effect.
If you want to get really creative, you can even make your own lighted designs or patterns on the sled. Make sure to choose lights that are safe to use outdoors so they won't be damaged by the weather.
6. Hang Ornaments
Hanging ornaments from an old wooden sled is a great way to add some Christmas cheer. You can either hang them from the sled itself, or you can use ribbon or string to create a makeshift Christmas tree on top of the sled. Either way, your guests are sure to be impressed with your handiwork. Try to choose ornaments that will stand out against the wood, such as brightly colored balls or glittery stars.
You Can Check It Out to Get Bumps Out of Polyurethane Finish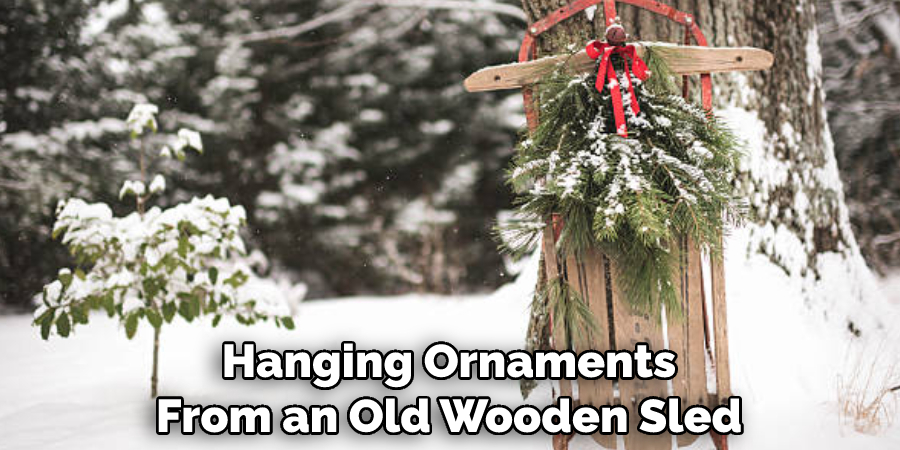 7. Fill it With Presents
If you really want to make your old wooden sled stand out, fill it with presents! This is especially effective if you have small children who will be excited to see their gifts "sledding" down the stairs on Christmas morning. Just make sure that you wrap the presents first so that they don't get damaged during transport. Whether you're using the sled for gifts or just decoration, it will definitely be a showstopper.
8. Add a Sign
A sign is a great way to personalize your decorated old wooden sled. You could use it to write a holiday message, such as "Merry Christmas" or "Happy Holidays" Alternatively, you could use it as an opportunity to get creative and write something unique that reflects your family's personality. Whatever you choose to write, make sure that you use a weatherproof material so it won't fade or wear away.
9. Top It Off With a Reindeer
Lastly, top off your old wooden sled with a reindeer! You can either buy an inflatable reindeer or make one from paper mache. If you're feeling really creative, try making a tiny sleigh and a team of four miniature reindeer to go along with the sled. This will be sure to bring out the holiday spirit in anyone who sees it!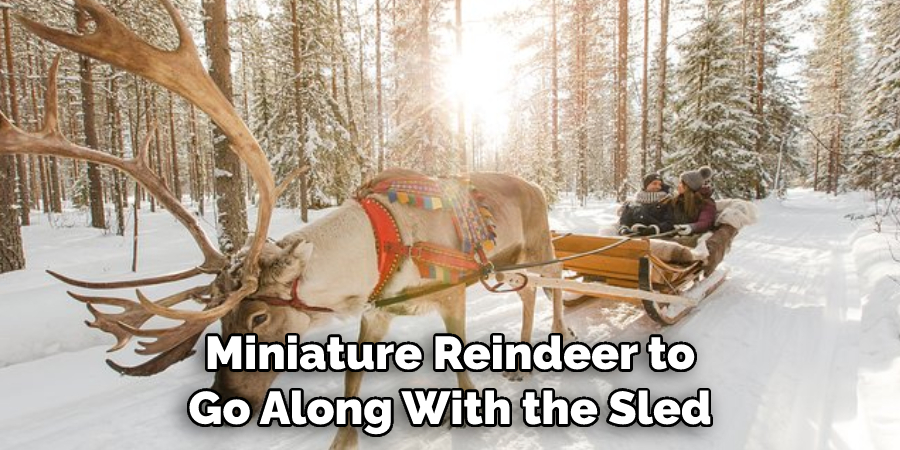 With these simple tips, you can easily turn an old wooden sled into a festive and fun holiday decoration. Whether you decide to paint it, add fabric, or hang decorations from it, your guests will be amazed at your creativity. Have fun decorating!
Things to Consider When Decorate an Old Wooden Sled for Christmas
1. Choose the Right Paint:
There are a few different types of paints that work best on wood, such as oil-based enamel and acrylic urethane. Water-based latex also works but tends to crack over time. If you're looking for a vintage look, you can use chalk paint to create a rustic effect.
2. Clean the Sled:
Take a damp cloth or soft brush to wipe down the surface of your old wooden sled, and remove any dirt or debris before painting it for Christmas. While you can sand the surface to give it a smoother texture, try to avoid doing so if possible, as it may cause the paint to flake off.
3. Sand Lightly:
Roughing up the surface with fine-grit sandpaper will give you a better base for your paint to adhere to, so it lasts longer over time. If you do choose to sand the surface, make sure to wipe away any dust or residue before you begin painting.
4. Prime it:
After sanding, use an appropriate primer for timber surfaces and apply two coats for the best results. This will also help prevent any cracking or peeling of your paint. Although it may take longer, it will be worth it in the long run.
You Can Check It Out to Upholster the Back of a Wooden Dining Chair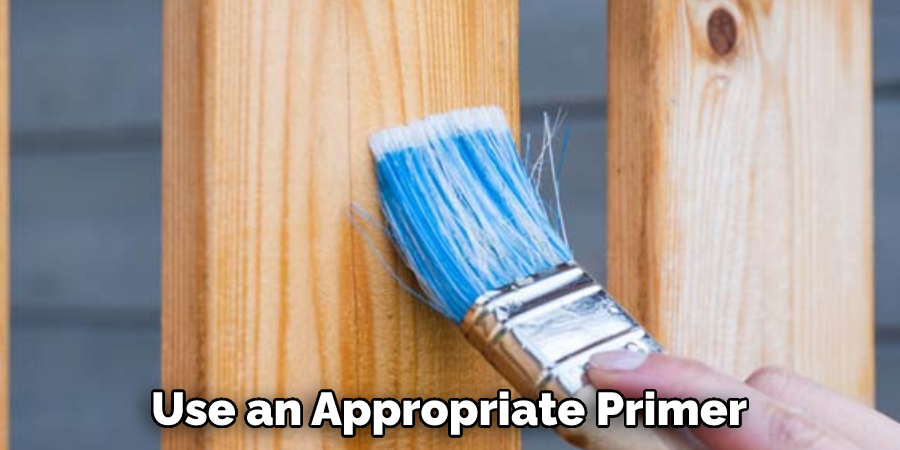 5. Choose the Right Festive Colors:
Consider using traditional Christmas colors such as red, green, gold, silver, and white when decorating your old wooden sled. You can also add some glitter to make it extra sparkly! 
6. Add a Few Decorations:
To really customize the look of your sled and make it more festive for the holidays, consider adding some additional decorations like ribbons, bells, stars, or other seasonal items you might have lying around at home.
7. Seal It with a Protective Finish:
Finally, apply a sealant on top of your newly decorated wooden sled to protect it from weathering and keep its color for longer. A clear polyurethane finish works best for this purpose. If you're looking for a glossy finish, you can use varnish instead.
Follow these simple tips, and you'll be sure to have a beautiful and festive old wooden sled ready in time for the holidays! Enjoy!
Сonclusion
Decorating an old wooden sled is a fun way to add some holiday cheer to your home decor. By following these steps, you can easily transform your sled into something special that will bring festive joy year after year. 
With just a few tools and supplies, you can create a timeless and unique Christmas decoration that will last for many years to come.
Thanks for reading our blog post on how to decorate an old wooden sled for Christmas! We hope you found it helpful and informative. Happy decorating!
You Can Check It Out to Frame Glass With Wood