Wooden Adirondack chairs are iconic fixtures in summertime boating scenes and beach houses, providing a timeless way to relax in the sunshine. Not only are these beautiful chairs additions to any outdoor or indoor space, but their durable construction ensures that you'll be able to enjoy them for years on end – provided they have been properly cared for. In this post, we will go over what steps should be taken how to restore wood Adirondack chairs back to their former glory. Whether it's from water damage, UV discoloration, or general wear and tear due to extended usage – trust us when we say that with a few simple tools and techniques, your beloved wooden lounger can look as good as new!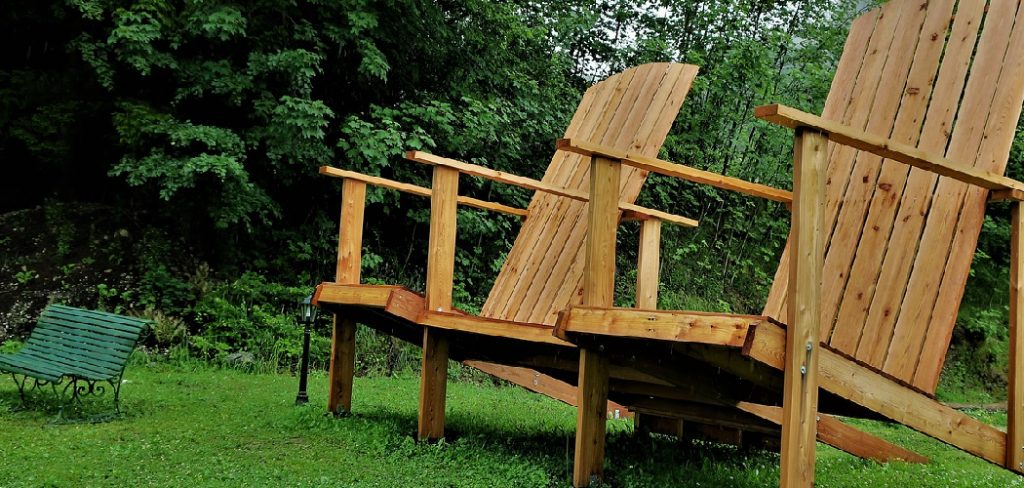 Is It Better to Paint or Stain an Adirondack Chair?
When deciding to restore a wood Adirondack chair, one of the decisions that need to be made is whether or not it should be painted or stained. Both options have their advantages and disadvantages, so it's important to consider all factors before making a decision.
Painting an Adirondack chair allows for greater customization and personalization. It also provides more protection against the elements and a longer-lasting finish. However, painting can be time-consuming and requires multiple coats to get the desired look. Additionally, it tends to hide the beauty of the wood grain, making it less appealing aesthetically.
Staining an Adirondack chair allows for a more natural wood finish that showcases the beauty of the wood grain. It can be done quickly, with a single coat usually providing enough protection and color. However, staining doesn't offer as much protection against weathering as painting does, and it is not as customizable or personalized.
When restoring an Adirondack chair, it is important to consider whether painting or staining would be better for the project. Each option has its pros and cons, so take the time to weigh them carefully before making a decision.
8 Methods How to Restore Wood Adirondack Chairs
1.  Check for Damage
Before you begin the restoration process, it is important to check your Adirondack chairs for any damage. Look for cracks, splits, or other signs of wear and tear. If you find any damage, you will need to repair it before you proceed with the restoration. Although it is possible to repair minor damage on your own, it is highly recommended that you take the furniture to a professional for any major repairs.
2.  Remove the Old Finish
Once you have checked for damage, you will need to remove the old finish from your Adirondack chairs. You can do this by sanding the chairs with coarse-grit sandpaper. Be sure to sand in the direction of the grain to avoid damaging the wood. If the old finish is particularly stubborn, you may need to use a chemical stripper. Once all of the old finish has been removed, carefully wipe away any dust with a damp cloth.
3.  Apply a Pre-Stain Conditioner
After you have removed the old finish, you will need to apply a pre-stain conditioner to the chairs. This will help to even out the color of the wood and prepare it for staining. To apply the pre-stain conditioner, you will need a brush and lint-free cloth. Start by brushing on an even coat of the conditioner and then wiping it off with the cloth. Make sure to pay special attention to areas such as corners, crevices, and grooves. Once you have applied the pre-stain conditioner, allow it to dry completely before moving on to the next step.
4.  Stain the Wood
Once the pre-stain conditioner has been applied, you can begin to stain the wood. Be sure to choose a stain that is compatible with the type of wood your Adirondack chairs are made from. Apply the stain in long, even strokes and allow it to dry completely before proceeding. If the stain is still tacky to the touch after an hour, lightly sand it down and reapply.
Make sure that you cover all areas of the chair, including crevices and tight corners. However, don't let the stain pool in any areas – wipe away any excess with a clean, dry cloth. If you desire a richer color, you may need to apply a second coat of stain. Allow the stain to dry thoroughly before proceeding.
5.  Apply a Clear Coat
After the stain has dried, you will need to apply a clear coat to protect it from UV rays and other elements. You can choose from a variety of clear coats, including polyurethane, lacquer, or varnish. Be sure to follow the manufacturer's instructions for application and drying times. Try to use a clear coat that is oil-based for best results.
Although it takes a bit longer to dry, it is more durable and will protect your wood Adirondack chairs in the long run. Once you have applied the clear coat, allow it to dry for a few days before putting your chairs out in the yard. Enjoy your newly restored wood Adirondack chairs!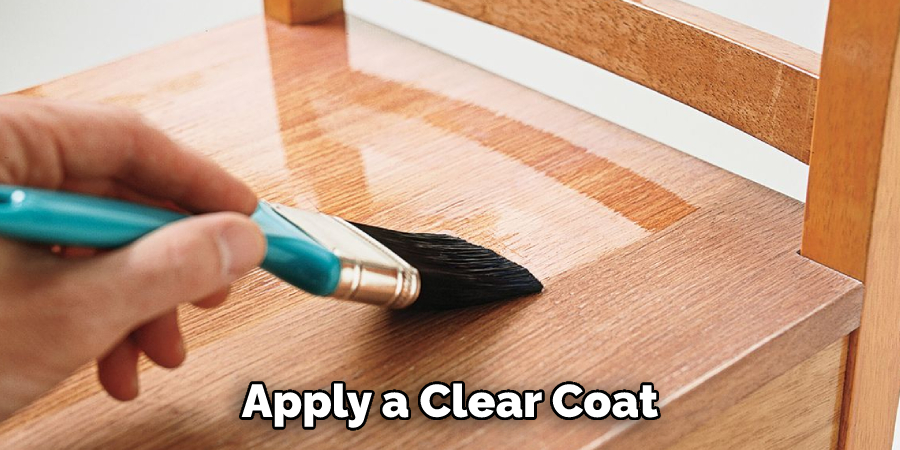 6.  Assemble the Chairs
Once the clear coat has dried, you can begin to assemble your Adirondack chairs. If your chairs came disassembled, follow the instructions that came with them. If not, simply screw or bolt the seat slats into place and attach the arms if they are not already attached. Make sure to drive the screws straight and firmly into the wood.
While you're working, take occasional breaks to check the alignment of the arms and seat slats. Once the chairs are fully assembled, give them a thorough inspection to make sure everything looks straight and secure. If something isn't quite right, you can still adjust it before the chairs are completely finished.
7.  Add Cushions or Pillows (Optional)
If desired, you can add cushions or pillows to your Adirondack chairs for additional comfort. Be sure to choose materials that are compatible with both the type of wood and finish used on your chairs. Outdoor fabrics such as Sunbrella are a good option for Adirondack chair cushions as they are durable and easy to clean. Measure the chair seat to determine the size of the cushion that will fit. If possible, we recommend using cushions with ties or straps, so they stay in place. Finally, choose colors and patterns that will add a decorative touch to your Adirondack chairs.
8 . Place Your Chairs in Their New Home!
Now that your Adirondack chairs have been restored, it's time to find them a new home! Place them on your deck or patio and enjoy their new look! With a little care and maintenance, your Adirondack chairs will last for many years to come. Be sure to give them a light coat of wood sealant at least once a year, and keep them free from debris for optimal longevity. And don't forget to enjoy lounging in them – after all, that's what Adirondack chairs are for!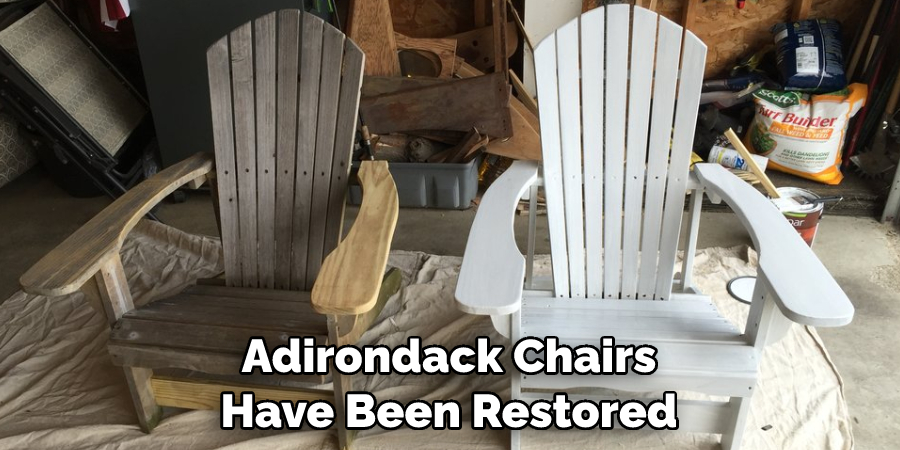 By following these steps, you can easily restore your wood Adirondack chairs. With a little time and effort, you can create a beautiful outdoor seating area that will bring years of enjoyment to your family and friends! Enjoy!
Things to Consider When Restoring Wood Adirondack Chairs
1. Determine the Best Method for Restoring Your Particular Chairs:
Depending on the extent of damage and wear, you may need to do everything from sanding to replacing parts or even painting. Take into account the current condition of your chairs and decide on an appropriate restoration process.
2. Choose the Right Materials:
Make sure you select materials that are compatible with your Adirondack chairs and the environment they are in. For example, if the chairs will be placed outdoors, choose sealants and paints that can handle water, sun, and other weather conditions.
3. Sand Down and Prepare Parts of the Chair:
To restore your Adirondack chairs, you will need to sand down some of the parts of the chair. Be sure to wear protective gear such as a face mask and gloves when doing this step. Avoid sanding off more than necessary, as it can weaken the wood or degrade its original look.
4. Replace Any Missing Parts:
If your chairs are missing any important parts, such as screws or bolts, these should be replaced for safety purposes. It is also important that the new parts match the existing design of your Adirondack chairs.
5. Paint or Stain Your Chairs:
This step will help protect and enhance the beauty of your restored Adirondack chairs. If painting, make sure to use good quality paint that is suitable for outdoor furniture. Consider using a sealant on top of the paint job to help protect your restored chairs from moisture and other elements. When staining, follow directions closely, as this will affect how long the stain lasts.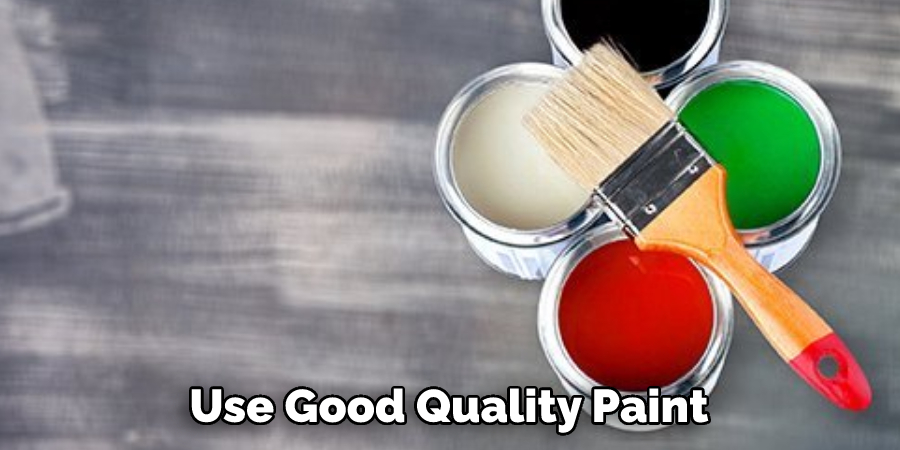 Conclusion
Restoring wood Adirondack chairs is a fun and rewarding project. With a little elbow grease, you can bring new life to an old piece of furniture. These chairs are built to last, so with proper care and maintenance, they will provide years of enjoyment. Thanks for following along! We hope this tutorial on how to restore wood Adirondack chairs was helpful and that you now feel confident tackling this restoration project yourself.
You Can Check It Out to Restore Ipe Wood Deck