Wood stoves provide a cozy and efficient heat source during colder months, but they also pose a potential danger: carbon monoxide (CO) poisoning. Carbon monoxide is a colorless and odorless gas that can be lethal if not properly vented. Protecting yourself and your loved ones from the dangers of CO is essential when using a wood stove.
By implementing preventive measures, you can enjoy the warmth and ambiance of your wood stove without compromising safety. In this article, we will explore various ways to prevent how to prevent carbon monoxide from wood stove, from regular maintenance and proper ventilation to installing detectors and practicing safe operation.
By following these guidelines, you can ensure a safe and enjoyable wood stove experience while keeping your home and family protected from the risks associated with carbon monoxide.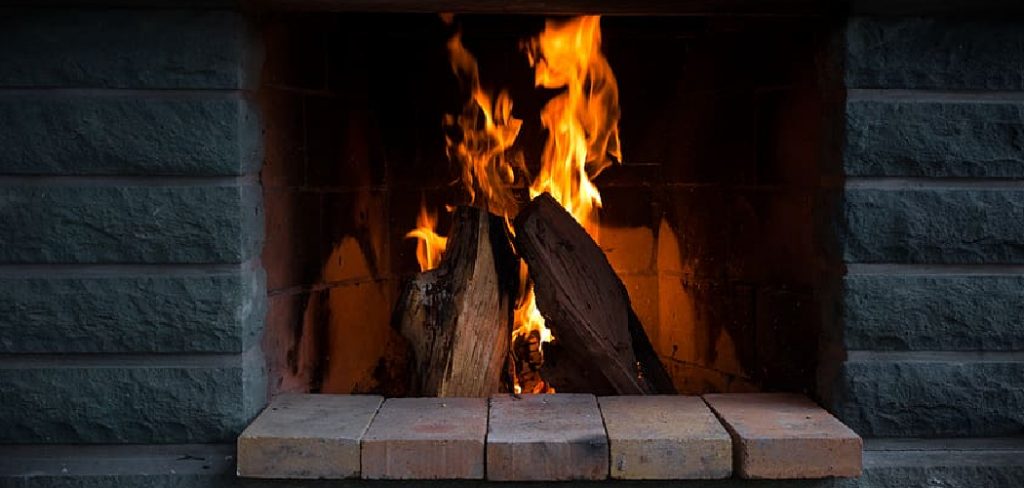 The Importance of Carbon Monoxide (CO) Safety when Using a Wood Stove
Carbon monoxide (CO) is a colorless, odorless gas that can be created when burning fuel. It is dangerous because it prevents oxygen from entering your body when you breathe it in. Carbon monoxide poisoning can cause dizziness, headaches, nausea and even death if not detected quickly and treated properly. Therefore, it is important to take preventative measures when using a wood stove to reduce the likelihood of carbon monoxide poisoning.
The first step in preventing carbon monoxide poisoning is to ensure proper ventilation for your wood stove. Make sure that the room has an adequate supply of fresh air coming into the area so that CO levels do not build up inside the home. Additionally, ensure that any exhaust vents are open and clear of debris to allow CO to escape the room.
Another important step is to always use dry, seasoned wood when burning in your stove. Wet or green wood can produce more CO than dry, seasoned wood and should be avoided. Additionally, do not burn any type of trash, such as paper, plastic or cardboard in the stove as these materials produce more CO.
Understanding the Risks and Potential Dangers Associated with CO Emissions
Carbon monoxide (CO) emissions from wood stoves pose a risk to human health and the environment. Symptoms of carbon monoxide poisoning can be very mild, such as headaches and nausea, or more serious, leading to permanent injury or death. Long-term exposure to low levels of CO can cause chronic health effects. For these reasons, it is important to understand the potential dangers associated with wood stove emissions and how to prevent them.
The first step in avoiding carbon monoxide poisoning from a wood stove is understanding how it is produced and released into the air. Wood stoves use an incomplete combustion process that produces more smoke than complete combustion. This smoke contains carbon monoxide which is then emitted through the chimney stack and into the atmosphere. If not properly vented, this CO can accumulate in enclosed areas, like homes or other buildings, where people can breathe it in causing a variety of health issues.
To prevent carbon monoxide from building up in a home or other space, it is important to make sure that the wood stove is properly vented and maintained. The vent should extend at least three feet above the roofline so that any smoke does not enter the living space. It is also important to regularly check for obstructions in the flue that could prevent proper ventilation and ensure that the chimney cap is securely fastened.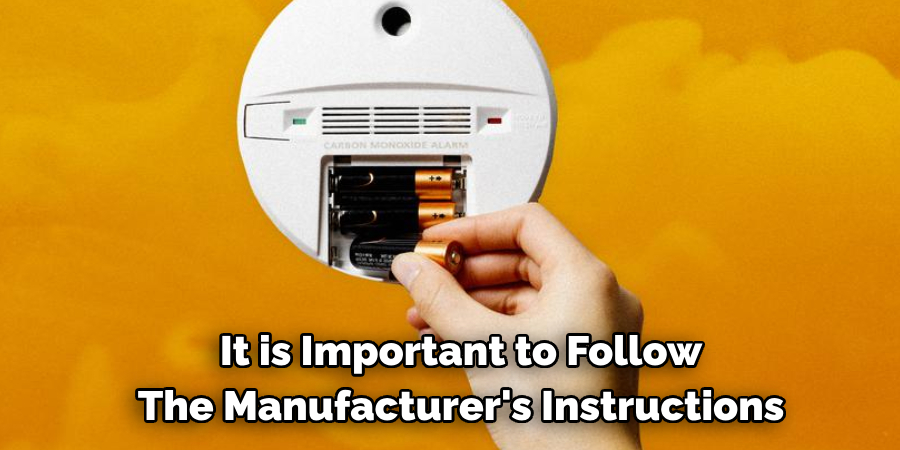 In addition, good air circulation using fans or open windows can help keep CO levels low when using a wood stove. Regular maintenance of your wood burning appliance will help ensure it operates safely throughout its lifespan and reduces emissions of harmful gases. Following these simple steps can significantly reduce the risk of carbon monoxide poisoning from wood stoves.
Engaging a Professional for the Wood Stove Installation
Engaging a professional for the wood stove installation is essential as they will be able to give advice on which type of wood stove is more efficient and have the right experience to ensure that it is properly installed. They can also check to ensure that there are no leaks or openings in the flue pipe where carbon monoxide may escape into the house, as well as advising on the correct type of ventilation for the area.
This ensures that carbon monoxide does not enter the home from any hidden points or through defective equipment. Professionals should also be able to provide an appropriate warranty period during which time they can respond to any problems related to your stove repair needs.
In addition, it is important to make sure you follow all operating instructions provided with your wood stove. This includes proper venting, ensuring that chimney and flue pipes are cleaned regularly, and replacing parts as needed. Keeping track of your wood stove maintenance and following recommended guidelines for safety is the best way to prevent carbon monoxide exposure in the home.
Lastly, it is important to install a carbon monoxide detector in proximity to your wood stove, such as outside the bedroom and other living areas, as well as in each level of your home. This device will sound an alarm if levels of carbon monoxide reach unsafe levels, giving you early warning and time to take appropriate safety measures.
10 Ways How to Prevent Carbon Monoxide from Wood Stove
1. Proper Ventilation:
Ensure that your wood stove is properly ventilated to allow the safe and efficient release of combustion gases. Have a professional inspect and clean the chimney regularly to remove any blockages, creosote buildup, or debris that could impede proper ventilation.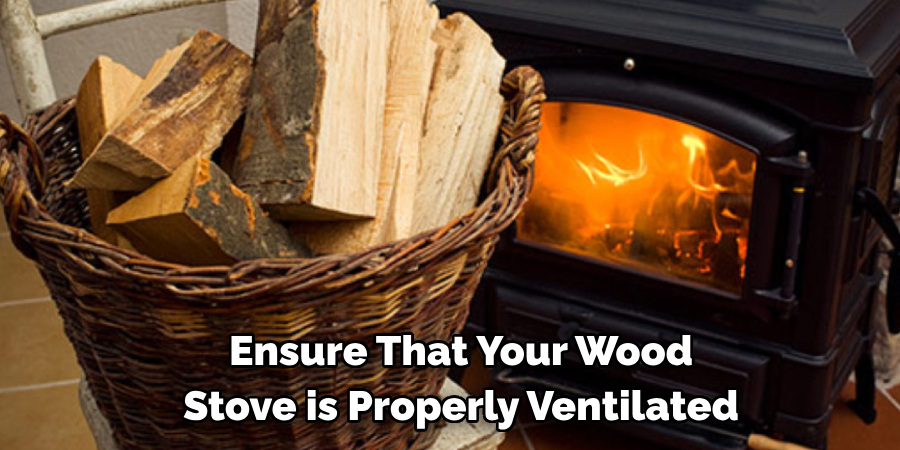 2. Installation of Carbon Monoxide Detectors:
Install carbon monoxide detectors on every level of your home, particularly near sleeping areas. Choose detectors that meet recognized safety standards and have audible alarms. Test the detectors regularly and replace batteries as needed. If the carbon monoxide alarm sounds, leave your home immediately and call 911. Do not re-enter until emergency personnel have declared it safe to do so.
3. Regular Inspection and Maintenance:
Schedule regular inspections and maintenance for your wood stove. Hire a professional to check for any leaks, damaged components, or issues that could lead to carbon monoxide production. Clean the stove, chimney, and flue regularly to remove any potential blockages or buildup. Make sure all connections are secure and that the stove is correctly sealed to prevent drafts. Replace any worn-out or damaged parts immediately. Keep flamm
4. Use Proper Fuel:
Burn only seasoned hardwood in your wood stove. Avoid using wet or green wood, as it produces more smoke and increases the likelihood of carbon monoxide production. Properly seasoned wood burns more efficiently and reduces the risk of harmful emissions. Additionally, it is important to store your wood outside and away from the stove. If you store the wood inside, cover it with a tarp or other material to keep it dry and reduce the amount of smoke produced.
5. Proper Combustion Air Supply:
Ensure that your wood stove has an adequate air supply for combustion. Check the stove's manual or consult a professional to determine the correct air intake requirements. Proper airflow helps maintain complete combustion and reduces the production of carbon monoxide. Check the air intake and chimney regularly for obstructions that can restrict airflow.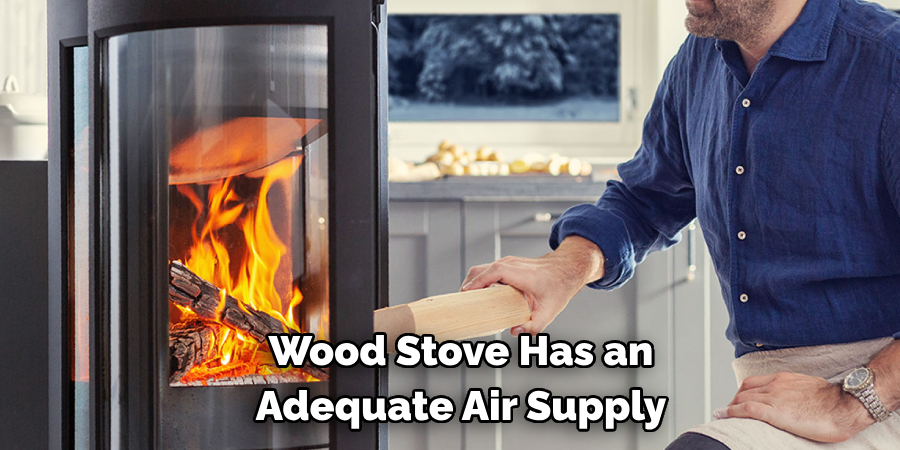 6. Maintain Clearances:
Keep flammable materials, such as furniture, curtains, and rugs, at a safe distance from the wood stove. Maintain the recommended clearances specified by the stove manufacturer to prevent potential fires and ensure proper airflow. Make sure there is at least 36 inches of clearance between the stove and any combustible material. Also, have a minimum of 18 inches of space between the stove and any ceiling.
7. Never Use Unvented Stoves Indoors:
Unvented or vent-free wood stoves release combustion gases, including carbon monoxide, directly into the room. It is crucial to avoid using unvented stoves indoors, as they pose a significant risk of carbon monoxide poisoning.
8. Properly Operate the Damper: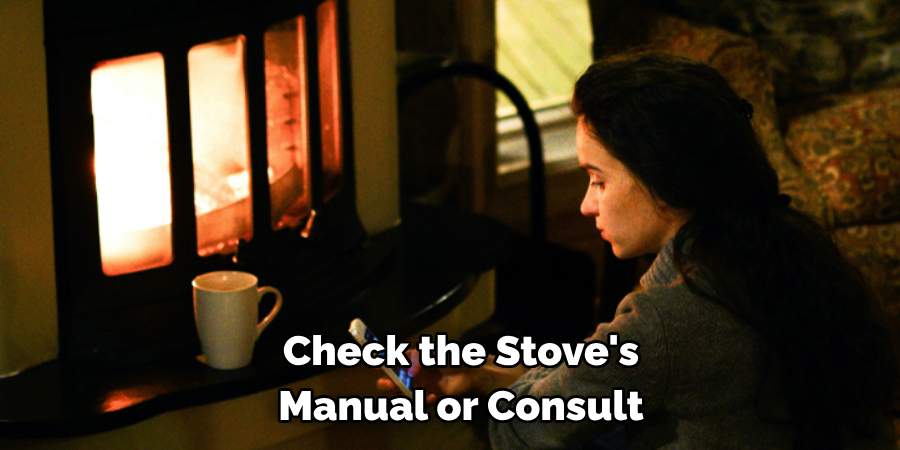 Familiarize yourself with the damper controls of your wood stove. Operate the damper correctly to control the airflow and combustion process. The proper adjustment of the damper helps maintain efficient combustion and reduces the production of carbon monoxide.
9. Use Exhaust Fans Correctly:
When using exhaust fans, such as range hoods or bathroom fans, ensure they are not interfering with the airflow around the wood stove. Exhaust fans can create negative pressure in the room, causing backdrafts and potentially drawing carbon monoxide into the living space.
10. Educate and Practice Safety Measures:
Educate everyone in your household about the dangers of carbon monoxide and the safe operation of the wood stove. Establish safety protocols, such as never leaving the stove unattended and avoiding opening windows or doors while the stove is burning.
Conclusion
All in all, there are a few important things to keep in mind when it comes to preventing carbon monoxide poisoning and maintaining the safety of your home. Remember to install a good-quality stove, clean it thoroughly, maintain proper ventilation, and ensure that your chimney is clean and well-maintained.
By following common sense guidelines and keeping these safety tips in mind, you can greatly reduce the risk of carbon monoxide poisoning from your wood-burning stove. A responsible homeowner ensures that their family is safe from the differing dangers posed by home appliances and machinery.
Ultimately, ensuring that your home is safe is a major step towards protecting yourself and your loved ones against carbon monoxide before it's too late. So be sure to invest some time into taking proper preventive measures to secure a healthy living environment in your home by learning how to prevent carbon monoxide from wood stove today!