Building wood steps for your above-ground pool offers you and the pool several benefits. It can help reduce safety risks due to slippery surfaces, provide easier access to the pool, and increase the area's aesthetic appeal. Wood is also a great material choice for building stairs due to its strength, durability, and versatility.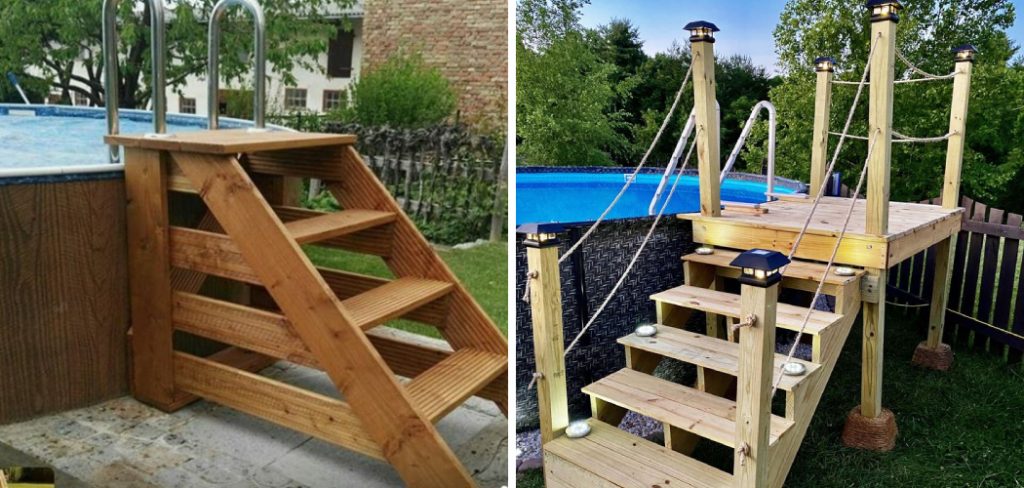 One of the main advantages of building wood steps for an above-ground pool is that they can be made to blend in with the overall look and feel of the landscape. They can also be customized to fit any size or shape, making them a great choice for those with limited space. Additionally, wood is strong and durable, so you won't have to worry about replacing your steps every few years. Building wood steps is also much cheaper than buying prefabricated ones, and the materials can be easily found at any home improvement store. In this blog post, You will learn in detail how to build wood steps for above ground pool.
What Type of Wood Should You Use to Build the Steps? 
When building wood steps for an above-ground pool, it is important to use the right type of wood. Pressure-treated lumber is a good choice as it has been treated with chemicals that help protect the wood against decay and rot. Cedar and redwood are also excellent choices as they are naturally more resistant to weathering and insect damage. In addition, be sure to use screws and nails rated for outdoor use so they will not corrode over time. Whichever type of wood you choose, make sure it is strong and durable enough to withstand constant exposure to water.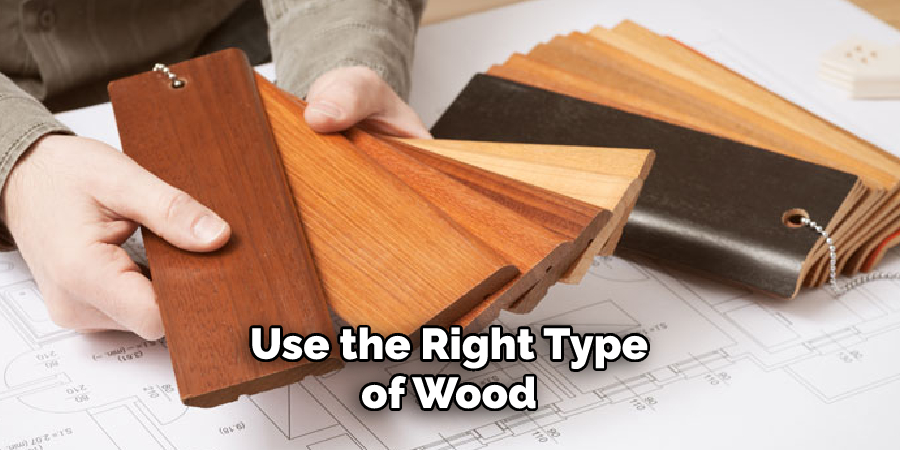 Finally, be sure to seal the wood with a coat of waterproofing sealer once the steps are constructed. This will help keep the wood looking great and protect it from moisture. With a little bit of effort, you can build sturdy wooden steps that will last for years to come.
Tools You Will Need
Tape measure
Circular saw or table saw
Hammer
Nails
Level
Drill
Screwdriver
Wood screws
Deck screw
Wood glue.
Step by Step Processes for How to Build Wood Steps for Above Ground Pool
Step 1: Inspect the Pool Area
Before starting any construction project, inspecting the area surrounding the pool is important. Ensure no obstacles could interfere with your ability to install wood steps. Take into consideration any nearby trees or other landscaping features that may need to be moved or adjusted before you start building.
Step 2: Measure and Mark Outlines
Once you have inspected the area and determined where the steps will go, it is time to measure and mark out the outlines for each step. Make sure to use a level to ensure that the steps are evenly spaced and level across the pool.
Step 3: Cut Wood Pieces
After measuring and marking out lines, it is time to cut wooden pieces for the steps. It is important to use appropriately sized pieces that are at least as wide as the step measurements and as long as the desired height of each step.
Once all the wooden pieces have been cut, it is time to attach hardware, such as bolts and screws, to secure them. Be sure to use appropriate hardware for outdoor use, and make sure that each piece is secure.
Step 4: Attach the Steps
Now that all of the pieces have been cut and attached, it is time to attach the steps together. To do this, screw or bolt each step into place and be sure to double-check measurements before securing them in place. Now it is time to stain and seal the steps. This will help protect them from weathering and damage as well as give them a more polished look. Make sure to apply an even coat of stain and sealer for the best results.
Step 5: Install Handrails
It is important to install handrails along the sides of the steps to provide a more secure footing. These can be purchased premade or customized with wood and fittings to match the style of your pool. Adding outdoor lighting around the pool area can add safety as well as an aesthetic look. Consider installing lights along the base of the steps and even underneath each step for a nice effect.
Step 6: Add Finishing Touches
Finally, add any finishing touches, such as painting or staining the wood to match your outdoor decor. This will create a more polished look and make it easier to care for in the future.
Now that all the work is complete, it's time to enjoy your newly constructed wood steps for above ground pool. Be sure to take extra precautions around the pool and follow any safety guidelines associated with having an above-ground pool.
Tips for How to Build Wood Steps for Above Ground Pool
Always use pressure-treated wood when building a set of steps for an above-ground pool. This will help protect the wood from weather and water damage, keeping your stairs safe and secure.
Make sure your measurements are accurate before cutting the lumber to size. This will ensure that the steps fit perfectly and securely without any dangerous gaps.
Secure your steps to the pool deck with a few screws to prevent them from shifting or wobbling.
Install handrails for extra security and stability when climbing up and down the steps.
Make sure you use non-slip material on the stairs, especially if they are near the pool.
Place a few deck lights around the area to make sure your steps are visible and safe at night.
Make sure all edges of the stairs are sanded down and smooth so that there is no chance of injury.
Do not forget to check your local building codes to ensure your stairs meet all safety regulations in your area.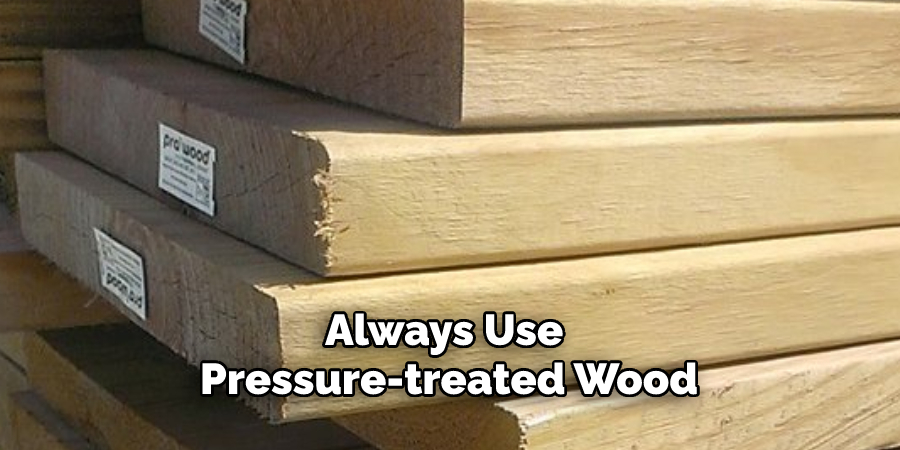 By following these tips for building wood steps for an above-ground pool, you can ensure your swimming experience is safe and enjoyable.
How Can You Be Sure That Your Stairs Are Safe and Secure? 
When building wood steps for an above-ground pool, it is important to ensure that the stairs are safe and secure before using them. You will need to use quality materials and take extra care when constructing the stairs. To make sure your stairs are as safe as possible, consider these tips:
Make sure all parts of the staircase are securely fastened. Use screws and nails to attach any wooden components, and check that all metal pieces are firmly bolted together.
Make sure the steps are evenly spaced apart and have a consistent rise from one step to the next. This will help ensure that each step is comfortable to use and easy on the feet when climbing up or down the staircase.
Make sure each step is wide enough to comfortably accommodate at least one foot without any edges sticking out. This will help prevent slips and falls while using the stairs.
Use good quality wood that won't warp, crack, or splinter over time due to exposure to the elements. The wood should be treated for weather resistance to ensure that it can withstand the pool's environment.
Take extra precautions when building a staircase near an above-ground pool, such as adding non-slip treads and handrails. These features will provide added safety while using the stairs and help prevent falls and accidents.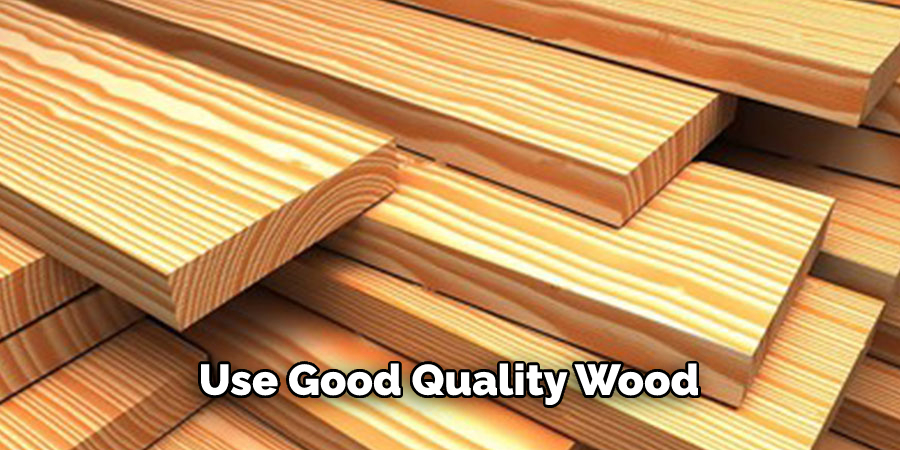 By following these tips, you can be sure that your wood steps for an above-ground pool are safe and secure. Make sure to use quality materials and take extra care when constructing the stairs to ensure a safe and comfortable experience for all who use them.
Are There Any Special Considerations That You Should Keep in Mind When Constructing Your Stairs?  
When constructing your stairs, you should consider the size and shape of your pool and the height of the steps. Proper spacing between steps ensures that each step is evenly balanced when entering and exiting the pool for safety. Generally, an 8-inch to 10-inch rise in height from one step to the next is recommended for pools with an 8-foot or higher wall height.
For pools with a lower wall height, the rise in step height should be 6 inches to 8 inches. Additionally, you should ensure that each stair tread is level even when installing them on the pool's wall for users to enter and exit safely. Finally, you should always include a handrail for added safety. With the proper planning and construction, your stairs will provide safe and comfortable access to your pool.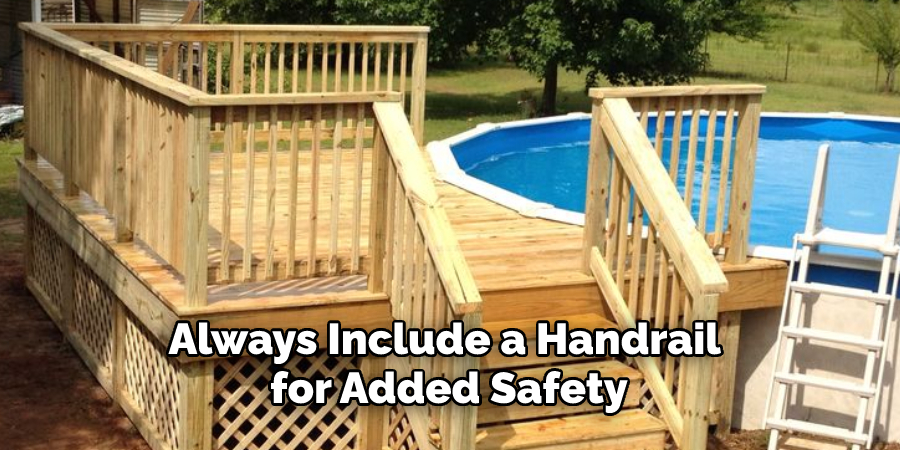 If you have any doubts or questions about constructing your own staircase, it is important to consult with an expert to ensure that the steps are constructed correctly. Professional contractors can help make sure that the stairs meet all safety regulations and that they are properly installed. A qualified contractor can also advise you on the best materials to use and tips on how to maintain your staircase to prolong its life. With some careful planning and design, you can easily construct a safe and attractive set of stairs for your above-ground pool.
Conclusion
In conclusion, building wood steps for an above-ground pool is not difficult, but it requires careful planning and preparation. Following all safety instructions while working with power tools and materials like pressure-treated lumber is important. If done correctly, the result will be beautiful, durable stairs providing safe pool access.
With a few simple tools and some patience, you can create an attractive addition to your backyard that will last for many years. I hope this article has been beneficial for learning how to build wood steps for above ground pool. Make Sure the precautionary measures are followed chronologically.