Are you looking for a unique and personalized way to decorate your home or gift something special to a loved one? Look no further than wood name signs! These stunning signs can help complete any room's overall look, whether it's your living room, nursery, or office.
With a Cricut machine, you can easily customize your wood signs to add a personal touch to your home, and this guide will show you how to make wood name signs with Cricut.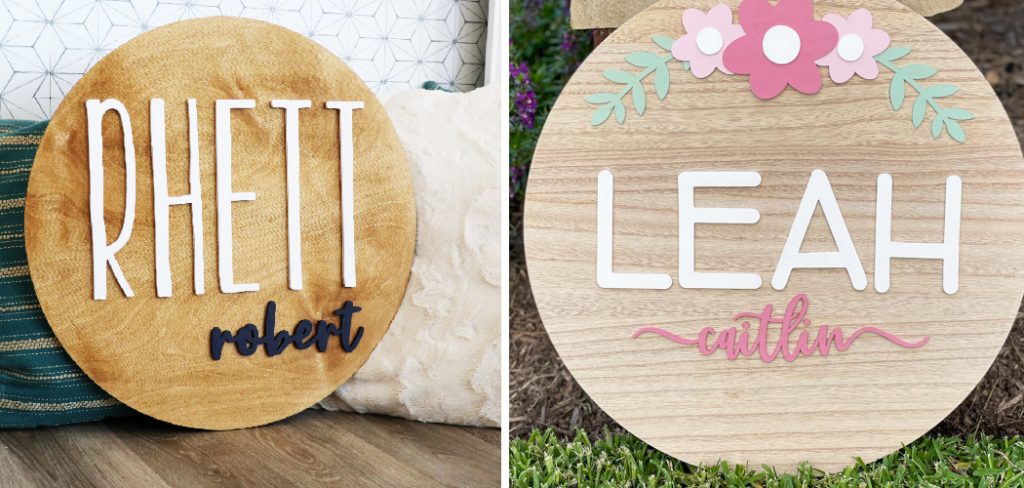 Can You Make Wood Name Signs with Cricut?
Wood name signs are a fantastic option for those looking to spruce up their home decor with a touch of personalization. And the good news is you can make these signs using your Cricut machine! With some creativity and skill, you can design and cut out custom text and shapes onto pieces of wood to create beautiful, one-of-a-kind signs for your home or as gifts for loved ones.
Whether you prefer a rustic, farmhouse-style aesthetic or a sleek and modern look, the versatility of the Cricut makes it easy to create the perfect sign for your style. So break out your tools and get crafting – the possibilities are endless!
Why Should You Make Wood Name Signs with Cricut?
Adding personalized touches to your home or office showcases your individuality and adds a sense of warmth and welcome. One way to do this is by creating custom wood name signs with a Cricut machine. Not only will you have a unique piece showcasing your creativity, but you'll also have a sense of pride knowing you made it yourself.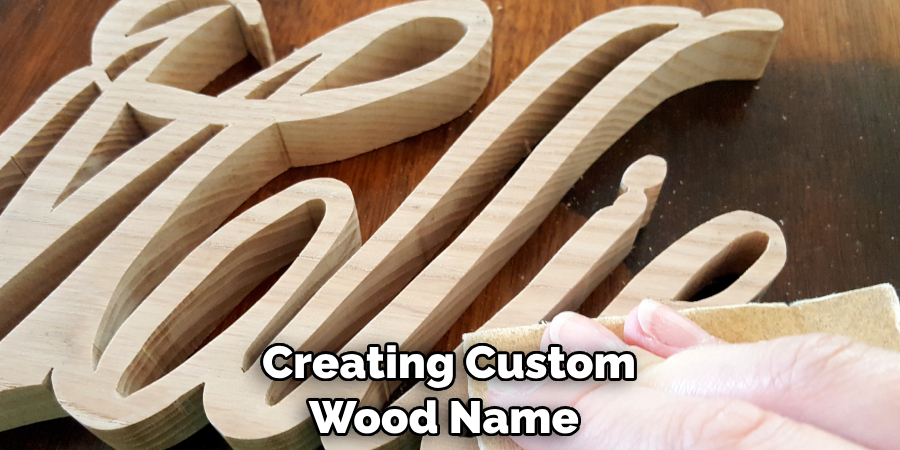 These signs also make great gift ideas for weddings, baby showers, or even for your personal use. Plus, with Cricut's versatility, you can customize your sign with various fonts, designs, and materials, making the possibilities endless. Start creating your unique wood name signs now with a Cricut machine.
7 Steps to Follow on How to Make Wood Name Signs with Cricut
Step 1. Choose Your Wood
Wood signs come in many shapes and sizes, which makes it important to choose the right one. Smaller signs are ideal for table decorations or children's rooms, while larger signs can be perfect for the living room or home office. You must also decide whether you want the sign to be natural or painted wood. You can order wood boards online or find them at your local craft supply store.
Step 2. Select Your Design
Select the graphics and lettering you'd like to use when you have chosen the right wood sign. Selecting a design that can work for the sign's size and shape is crucial. You can download various designs, fonts, and graphics from Cricut Design Space or other websites. Once you have uploaded the graphics, you can adjust the design to your liking, shrinking or stretching the elements accordingly.
Step 3. Prepare Your Tools
Now the fun part- preparing your Cricut machine for the sign! Ensure that you include a strong blade for cutting wood. You will also need transfer tape, a scraper tool, and sandpaper. Applying an extra-firm grip adhesive to your cutting mat is also advisable to hold the wood in place.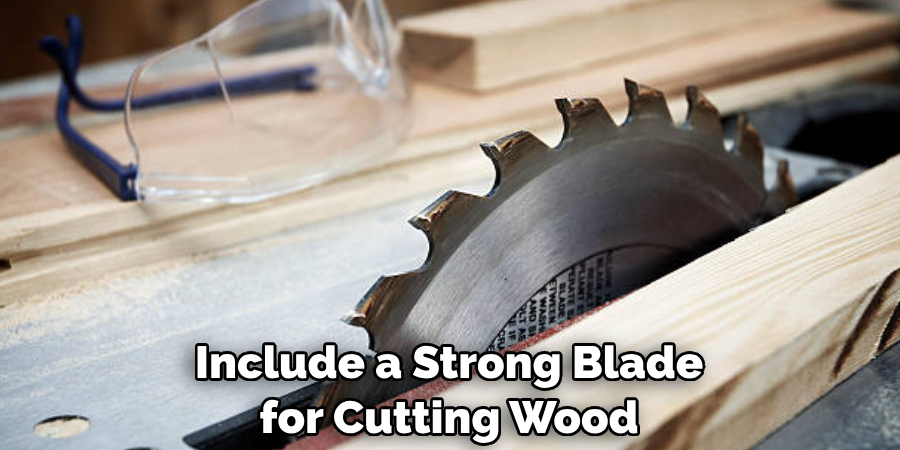 Step 4. Cut and Weed Your Design
You are now ready to create a vinyl stencil for your wood sign. Cut your design with your Cricut machine and weed it properly so that the design shows up on the wood board. You can use your scraper tool to apply transfer tape to the design, ensuring an even and smooth transfer.
Step 5. Apply Vinyl to The Wood and Sand Off Excess
Once you have transferred the design, carefully peel off the transfer tape, and begin to remove the inside of the stencil. Smooth the vinyl onto the wood and apply pressure with your scraper tool. Once all the vinyl is applied, it's time to sand off the excess. Apply light sanding to the surface to give your sign a smooth finish.
Step 6. Paint Your Sign
Depending on your desired look, you can now paint your sign with a brush or spray paint. If you use spray paint, hold the can at least 10 inches away from the wood for an even coat of color! Once dry, apply a second layer if desired.
Step 7. Enjoy and Show Off Your Creation!
Finally, the sign is ready to be hung or displayed in your home. You can hang it up with double-sided mounting tape or nails and enjoy your beautiful wood name sign for years to come! Don't forget to take a picture of your finished work and share it on social media – you deserve the recognition! Congratulations on creating a stunning Wood Name Sign with a Cricut!
That's it! You've now learned how to make wood name signs with cricut! You can easily create custom signs for your home with these easy steps. Start creating and have fun!
5 Considerations Things When You Need to Make Wood Name Signs with Cricut
1. The Design
When making wood name signs with a Cricut, you first need to consider the design. There are a variety of different fonts and images that you can use to create your sign, so you will need to decide what you want it to look like before you get started.
2. The Size
Another thing to consider when making wood name signs with a Cricut is the size. You must ensure that the sign is large enough to be seen from a distance but not so large that it takes up too much space.
3. The Material
The material that you use for your wood name sign is also important. You will need to choose a durable material that will not warp or crack over time. Wood is a good option for this, but you could also use acrylic or metal.
4. The Color
The color of your wood name sign is also something to consider. You will want to choose a color that contrasts well with the sign's material so that it is easy to see. Black or white are usually good choices for this.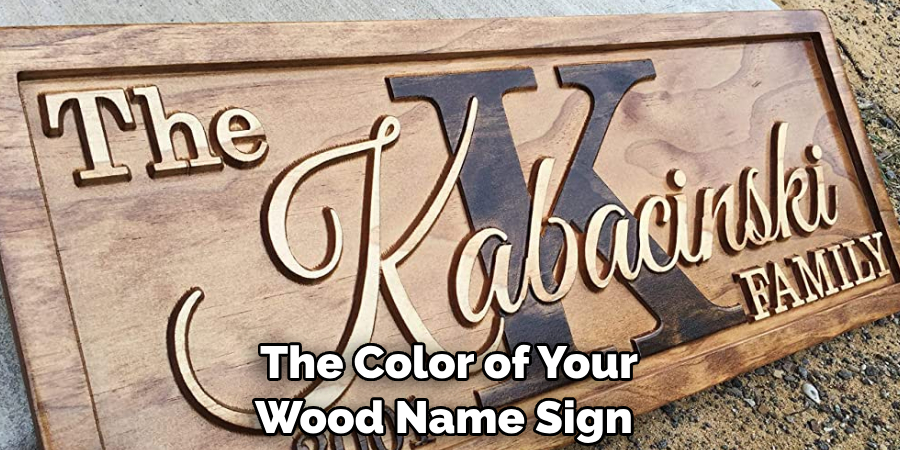 5. The Price
Finally, it would be best to consider the price when making wood name signs with a Cricut. The price can vary significantly depending on the size and materials you use. However, wood signs are generally more expensive than other options, such as acrylic or metal signs.
5 Benefits of Making Wood Name Signs with Cricut
1. Personalized Gifts
One of the best things about making wood name signs with a Cricut is that they make great personalized gifts. Whether you're looking for a gift for a family member, friend, or co-worker, a custom sign will surely be appreciated. You can customize the sign to include the person's name, favorite quote, or anything else you think they might like.
2. Affordable
Another great thing about making wood name signs with a Cricut is their affordability. If you were to buy a similar sign from a store, it would likely cost you much more than making it yourself. With a Cricut, you can get all the needed materials for less than $50.
3. Quick and Easy
Another benefit of making wood name signs with a Cricut is that they're quick and easy to make. The entire process can be done in just a few hours, and you don't need any special skills or experience. Even if you've never used a Cricut before, you'll easily make a beautiful sign.
4. Fun Activity
Making wood name signs with a Cricut is also a fun activity. If you want something to do on a rainy day or want to try something new, this is the perfect project. It's also great for bonding with friends or family members interested in crafting.
5. Endless Possibilities
Finally, another great thing about making wood name signs with a Cricut is the endless possibilities. You can customize your sign in many ways to make it unique. You can choose from various fonts, colors, and designs to create a sign that perfectly reflects your personality. You can also use images, symbols, and other elements to make your sign even more unique. With a Cricut, the possibilities are truly endless!
Some Common Mistakes People Make When Trying to Make Wood Name Signs with Cricut
Wood signs are a charming way to make a statement, and with a Cricut machine, the options are endless. However, even the most seasoned DIY-ers can make mistakes when making wood name signs.
One common mistake is not taking the time to sand the wood surface before starting the project. This can lead to the vinyl not adhering properly or not sticking well over time. Another common mistake is selecting the wrong font size or type, resulting in a cluttered or illegible sign.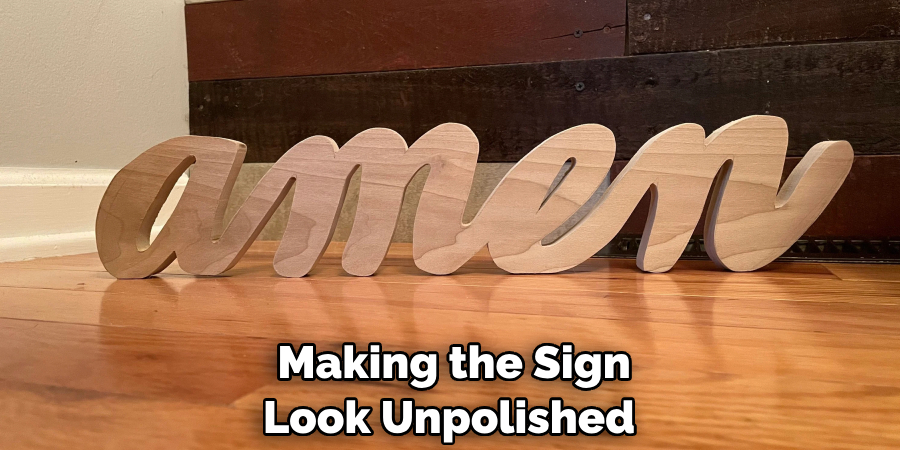 Finally, forgetting to select the correct blade depth and pressure setting can cause the machine to cut too deeply into the wood or not enough, making the sign look unpolished. But don't let these mistakes discourage you from trying out this fun and rewarding craft – with a little practice and patience, your wood name signs will be a beautiful addition to any space!
Conclusion
In conclusion, making a wood name sign with a Cricut machine is an enjoyable and easy DIY experience that you can try at home. There are limitless design options and sizes, and you can make it your own by deciding on the wood, design, lettering, and colors.
With a few steps, you can create personalized signs for your home or thoughtful gifts for your loved ones. Get creative and enjoy your newfound hobby! Thanks for reading our post about how to make wood name signs with cricut.